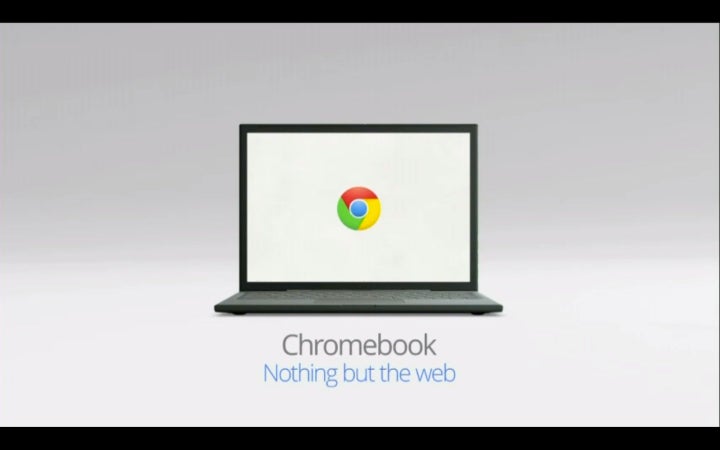 Google took the wraps off the Chromebook, the first consumer-facing laptop powered by the Chrome operating system.
Following last year's Cr-48 pilot program, which had over a million applicants, Google has made some big updates to their Chrome-based laptops, and it looks like the Chrome OS-powered laptops are ready to hit the market.
Chromebooks by Samsung and Acer will be available on June 15th in the U.S. from Amazon and Best Buy.
Samsung's Series 5 ChromeBook packs a 12.1-inch screen, HD webcam and 8.5 hour battery, and will be available for $429 (Wi-Fi only) or $499 (3G).
The 11.6-inch Acer Chromebook claims 6.5 hours of battery life, and a lower price at just $349 -- 3G connectivity will cost a bit more.
Intel dual-core CPUs will be standard in the new Chromebooks, and Google has been working with Adobe to improve the Flash experience. Chrome OS updates itself regularly, so Google argues that the laptop experience will improve over time.
Google is clearly using the core integration of the Web as a way to differentiate from other laptops on the market. Indeed, these Chromebooks store the user's apps, documents and settings in the cloud, which lets the user to access their personal files by logging in with any Chromebook.
Chrome OS is getting freshened up as well, with a new file manager -- you'll finally be able to connect your camera -- and media management apps. On the media front, Chrome OS will finally be getting out-of-the-box support for Hulu, Netflix and Pandora. And, of course, there will be full support for the recently announced Music Beta and Movies products. Gmail, Google Calendar and Docs will all get offline support later this summer.
Business and education users will be able to get a monthly deal on a Chromebook, priced at $28 for enterprise and $20 for students.