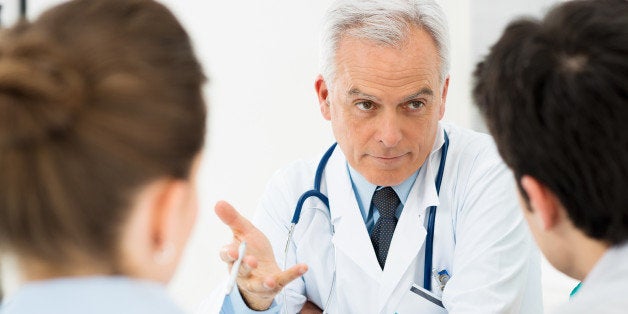 You may soon be a Google search away from immediate access to professional medical advice. The search engine giant is testing a new feature that urges people Googling illnesses or symptoms to jump on a video call with a medical professional.
The finding was reported on Friday by Reddit user jasonahoule. When he typed "knee pain" into his Chrome app, a Google pop-up explaining the temporarily free video chat feature appeared atop his search results:
"Based on your search query, we think you are trying to understand a medical condition. Here you can find health care providers who you can visit with over video chat. All visit costs are covered by Google during this limited trial."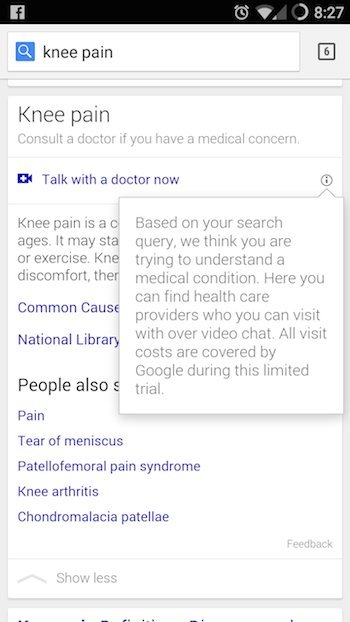 A screenshot of Reddit user jasonahoule's phone.
In an emailed statement to The Huffington Post, Google confirmed that it is testing out the search feature.
"When you're searching for basic health information -- from conditions like insomnia or food poisoning -- our goal is provide you with the most helpful information available," a Google spokesperson told The Huffington Post. "We're trying this new feature to see if it's useful to people."
Doctors using this service are able to prescribe medicine at their discretion, Google said. The company does not coordinate insurance coverage but patients can apply for reimbursements. All payments are made through Google Wallet.
To clarify, people have been able to connect to medical professionals using Google video chat since last November with the launch of Google Helpouts, a service that connects Google users to professionals of various sorts for a fee. What's new here is that the feature now appears in Google Search for some people.
While the service is currently free for those who see it, you should expect that to change if it becomes a permanent feature. In Google Helpouts, professionals can decide what they wish to charge.
If permanently implemented by Google, the feature could stop some from diagnosing their own illnesses using only Internet research. A survey by Pew Research Center last year found that 35 percent of U.S. adults have gone online to self-diagnose a medical condition. And while 41 percent said that a medical professional eventually confirmed the diagnosis, 18 percent said a professional did not agree, and 35 percent did not seek a professional opinion at all.
This story has been updated with additional information from Google on the service.
Support HuffPost
The Stakes Have Never Been Higher
Related
Popular in the Community