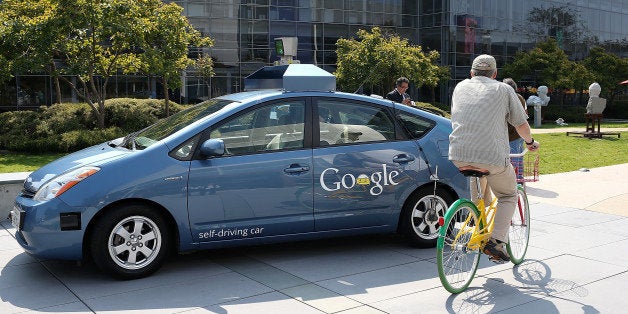 Google doesn't want to be the next Ford.
The Internet behemoth, bent on building the first fully-automated cars, said Friday that it plans to partner with traditional automakers when development of its self-driving technology is complete.
"We don't particularly want to become a car maker," Chris Urmson, the director of Google's self-driving car project, told The Wall Street Journal. "We are talking [with] and looking for partners."
Auto executives in Detroit and abroad confirmed they had been approached by Google, the Journal reported.
Google did not respond to a request for comment on Saturday.
Recent advances in driverless technology have ignited competition in Silicon Valley. Google announced in April that its automated cars could successfully detect and avoid pedestrians and bicyclists. In October, Tesla Motors equipped the new D line of its Model S sedan with a limited autopilot feature. Mercedes-Benz's latest S-Class features a "traffic jam assist" that allows the car to automatically follow the vehicle in front of it at at low speeds.
Still, fully automated vehicles have a long drive ahead of them before they hit the market.
Regulatory and insurance policies will have to come first. Moreover, the technology faces serious ethical questions -- namely, if an accident becomes unavoidable, who should die?
Consider this scenario, spelled out by Jason Millar in the September issue of Wired:
You are travelling along a single-lane mountain road in an autonomous car that is fast approaching a narrow tunnel. Just before entering the tunnel a child errantly runs into the road and trips in the centre of the lane, effectively blocking the entrance to the tunnel. The car is unable to brake in time to avoid a crash. It has but two options: hit and kill the child, or swerve into the wall on either side of the tunnel, thus killing you. Now ask yourself, Who should decide whether the car goes straight or swerves? Manufacturers? Users? Legislators?
Google is as yet unprepared to answer that question.
"People are philosophizing about it," Ron Medford, the director of safety on Google's self-driving car project, told The Associated Press last month, "but the question about real-world capability and real-world events that can affect us, we really haven't studied that issue."
Popular in the Community