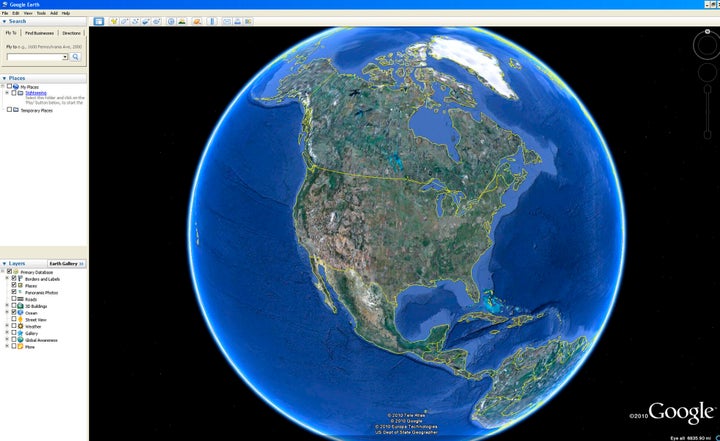 Google is throwing quite a party for Google Earth.
Google is taking advantage of the milestone to kick off a big publicity push that seeks to educate consumers about the myriad uses for Google Earth, via blog posts, infographics and an all-new website that showcases creative ways people have used the app. Though the tool is obviously well known -- no one reaches 1 billion downloads without becoming mainstream -- Google's efforts suggest that users' ongoing engagement with Google Earth may be falling short of what it could be.
Peter Birch, product manager for Google Earth, said many users think of the tool primarily as a novelty that lets them "fly" to their house.
"They don't have much of a sense what Earth can be used for," said Birch. "Really, it's a very powerful platform for sharing information."
To highlight Google Earth's relevance for everyone from researchers to jet setters, Google has launched a new Google Earth-centric site, One World Many Stories, that presents stories of how people have used the application in innovative ways.
Visit www.OneWorldManyStories.com to learn about people like Professor David Kennedy of the University of Western Australia, who's used Google Earth to scan thousands of square kilometers in Saudi Arabia and Jordan. Professor Kennedy has discovered ancient tombs and geoglyphs dating back at least 2,000 years, all without leaving his desk in Perth. Architect Barnaby Gunning, after the April 6, 2009 earthquake near L'Aquila Italy, encouraged his fellow citizens to start rebuilding the city virtually in 3D. Their online urban planning will aid city planners and architects. Retired English teacher Jerome Burg created Google Lit Trips, which uses Google Earth to match places in famous books to their geographical locations, encouraging students to create connections between the stories they read in school and the world they live in.
Demand for Google's online globe has skyrocketed over the last few years: The last time Google shared statistics on Google Earth was in 2009, when the company said Google Earth had been downloaded 700,000 times.
"None of us ever conceived we'd have that many downloads," said Birch. "The initial enthusiasm caught a lot of people off guard."
So how can Google Earth reach 2 billion? In addition to improving access to Google Earth through mobile devices, Birch said his team also hopes to see users contribute more of their own images, maps and other content to Google Earth.
"Something we want to do more is bring in more user content and make it easy for people to find and publish mapping data, whether historical imagery or photographs," said Birch. "Getting more people to be able to create and share is really where we're going."
Related
Popular in the Community