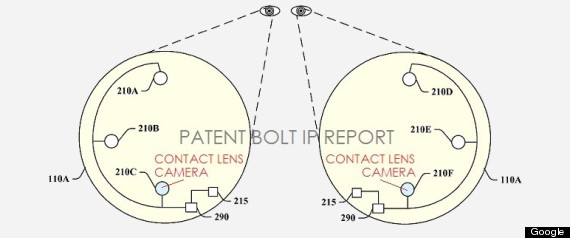 A sketch of Google's hypothetical contact-cum-camera.
To make its case, Google describes a situation in which the contact lens could prove helpful. Imagine a blind man walking toward an intersection. Without Google's camera lens, the blind man may not be able to spot a moving car, putting him in danger. With one, the camera could give the person an audio warning via his phone.
But the patent also mentions some superhuman abilities the lens could give healthy individuals, including changing focus and offering a wider peripheral view.
As with all patents, this shrunken version of Google Glass is a castle-in-the-sky idea that may never come to market. But Google engineers would not be the first to dream of cameras nestled right against our eyeballs. I mean, even "Futurama" called it with its "eyePhone" episode, though Google's version does seem less painful:
REAL LIFE. REAL NEWS. REAL VOICES.
Help us tell more of the stories that matter from voices that too often remain unheard.