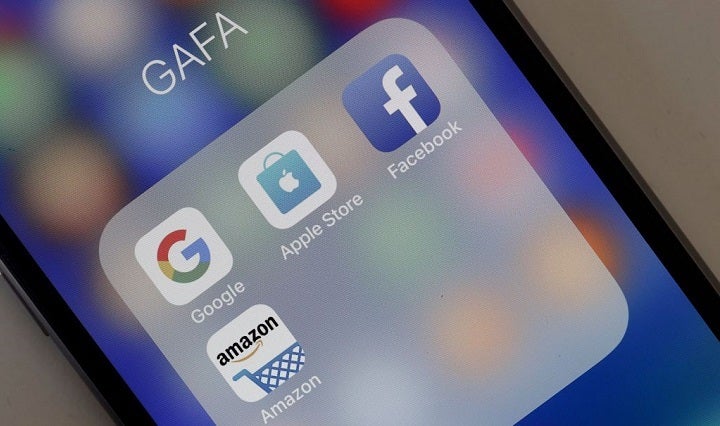 The nation's largest tech companies, which are currently facing state and federal investigations to determine if they've become monopolies, have devoted almost 10 percent of their lobbying efforts to shaping labor, antitrust, and workplace policies during the last decade.
The four companies bracing for sweeping probes ― Facebook, Amazon, Apple, and Alphabet, the parent company of Google ― have spent more than $330 million on attempts to influence federal lawmakers since 2008, according to a MapLight analysis.The lobbying efforts on labor and antitrust issues were the third-largest policy focus, trailing only taxation and copyright.
The focus on antitrust lobbying underscores the high political and financial stakes for the major tech companies, who have spent much of the last decade under scrutiny by European Union regulators while avoiding serious sanctions in the U.S.
Google is reported to be the subject of a multistate antitrust investigation to be announced by more than half of the nation's state attorneys general on Sept. 9. The company accounted for more than three-fourths of all lobbying on labor and antitrust issues by the four companies. Records show the Mountain View, Calif.-based advertising giant was responsible for 363 of 456 reports related to labor and antitrust issues.
Google's lobbying peaked in 2012, when it filed 45 lobbying reports for the issues ― the same year that a Federal Trade Commission staff report labeled it as a monopoly. The five-member trade panel, however, overruled its staff and announced in early 2013 that the company hadn't violated antitrust laws.
The advertiser has had a more difficult time overseas. In 2017, the European Commission would announced a $2.7 billion fine against Google for giving preferential treatment to its online shopping services. The company also was slapped with a $5 billion antitrust fine by the European Commission in 2018 for requiring manufacturers to pre-install applications running on its Android operating system. It was fined a third time for $1.7 billion in March after European regulators decided it was stifling competition by preventing website owners from presenting results by rival search engines.
Lobbying records show Google's parent company hired nine lobbying firms last year to press its case on antitrust and labor issues at least 38 times.
Amazon reported 57 instances of lobbying on antitrust and labor issues, according to federal records. Like Google, the Seattle-based retail and web services corporation faces probes from regulators on both sides of the Atlantic Ocean. The European Commission announced in July that it had opened an investigation to determine if Amazon was improperly using sales data from smaller merchants to gain an unfair sales advantage.
Although Apple (29 instances of antitrust or labor issue lobbying) and Facebook (seven instances) reported considerably less time and effort to shaping political opinions, the two Silicon Valley giants are also in the crosshairs of domestic and foreign regulators. Apple is bracing for a European Commission investigation into allegations by music-streaming competitor Spotify, which claims the Cupertino, Calif.-based company uses its app store to favor its Apple Music service. Apple also suffered a defeat in the U.S. Supreme Court, which ruled in May that a class action antitrust lawsuit could proceed. The lawsuit claims the company's 30 percent commission on sales from its App Store has led to higher prices for consumers.
Calling all HuffPost superfans!
Sign up for membership to become a founding member and help shape HuffPost's next chapter
This post was published on the now-closed HuffPost Contributor platform. Contributors control their own work and posted freely to our site. If you need to flag this entry as abusive,
send us an email
.