The aftermath of the mass shooting in Las Vegas followed the usual dreary choreography of disaster news: First, disinformation rolled in from the usual assortment of trolls, then social media platforms amplified it.
On Monday morning, Google's Top Stories section promoted threads from 4chan, an online forum that's a popular source of disinformation campaigns. The threads had deliberately misidentified suspects and victims, tying the shooter to Democrats, leftist groups, Islamic terror organizations, the federal government and others.
Facebook, meanwhile, promoted a post from The Gateway Pundit to the top of its news feed, even though it had misidentified the suspected shooter.
The Gateway Pundit ― a right-wing blog that routinely traffics in disinformation but has received White House press credentials from the Trump administration ― identified the suspect as "Geary Danley," a name that had previously been circulating on 4chan. The story said that Danley, "reportedly the murderer of at least 20 concertgoers in Las Vegas," was "a far-left loon." (4chan and others also mentioned Marilou Danley, who is apparently Paddock's girlfriend, though police have since said they don't believe she was involved in the shooting.)
The site's evidence for its characterization of Geary Danley was "a review of Danley's Facebook page, where he had liked Rachel Maddow and other liberal or anti-Trump pages." But Danley was not involved in the shooting, according to police, who instead identified the shooter as a 64-year-old Las Vegas man named Stephen Paddock.
Even after police had identified Paddock, however, the alt-right conspiracy theories continued. 4chan threads promoted by Google pushed the narrative that Islamic terrorists, Jewish people or Asians were responsible for the attack. After initially pushing Danley's name, commenters falsely tagged someone named "Samir Al-Hajeed" as the shooter. 4chan posters and alt-right Twitter accounts also wrongly suggested that comedians, porn stars and even soccer superstar Mesut Özil had been involved in the attack or were victims of it.
In a thread titled "Control The Narrative," one poster urged 4chan's members to "push the fact this terrorist was a commie on all social media. Make sure everyone knows." On both Reddit and 4chan, right-wing commenters launched attempts to tie the shooter to the leftist antifa, or anti-fascist, movement.
"This is antifa," one Reddit thread screamed. "It's 1000% antifa/extreme organized leftism," another on 4chan said, according to BuzzFeed reporter Ryan Broderick. The narrative quickly spread on Twitter.
Meanwhile, other posters suggested that the shooting may have been a "false flag," or covert operation, to prevent the passage of federal legislation that would ease regulations on gun silencers. Congress could vote this week on the bill, a legislative priority of the National Rifle Association that received committee approval in September.


It is standard practice for 4chan and other sites to push blatantly false or unsubstantiated information after mass shootings and other attacks ― and at times, larger news sites have amplified their messages. This is the third time this year, for instance, that The Gateway Pundit has misidentified a suspect in a mass shooting event, according to The Daily Beast's Ben Collins.
4chan appears to have archived many of the threads that originally pushed misinformation, disabling replies to them. But the threads and the false information they contained are still visible, and trolls have continued pushing baseless theories and deliberate disinformation on Twitter and other platforms.
Google, in a statement issued Monday afternoon, said that the 4chan link only appeared when users searched for Geary Danley's name, and that a lack of early news and search traffic including his name allowed the 4chan link ― which was among the first to include it ― to trigger the thread's inclusion in Top Stories. But the company's explanation also suggests that it treats sites like 4chan the same way it treats legitimate news sources.
"Before the 4chan story broke, there wasn't much surfacing about [Geary Danley], and so we weren't showing a Top Stories section for this set of queries," the statement said. "So when the fresh 4chan story broke, it triggered Top Stories which unfortunately led to this inaccurate result."
"We use a number of signals to determine the ranking of results ― this includes both the authoritativeness of a site as well as how fresh it is," the statement continued. "We're constantly working to get the right balance, and in this case, did not get it right. We'll absolutely be taking measures to improve this moving forward."
On Monday morning, after Facebook had helped spread The Gateway Pundit's misinformation, The Gateway Pundit deleted the post in question without explanation.
A Facebook spokesman later told HuffPost: "Our Global Security Operations Center spotted these posts this morning and we have removed them. However, their removal was delayed, allowing them to be screen captured and circulated online. We are working to fix the issue that allowed this to happen in the first place and deeply regret the confusion this caused."
Facebook has admitted that its platform was used to deliberately spread conspiracy theories and misinformation during the 2016 election, and the company and its CEO, Mark Zuckerberg, claim they've taken steps to address the problem.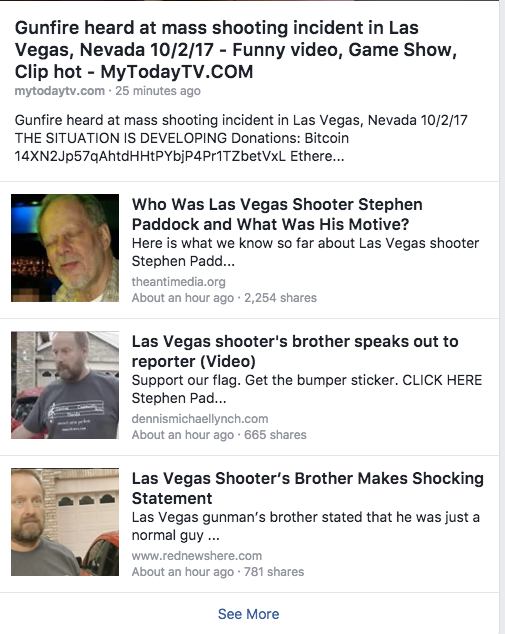 Meanwhile, in place of its previous post, The Gateway Pundit is now promoting a story pushing the notion that ISIS is behind the Las Vegas attack, citing the Islamic group's unsupported claims that the shooter "converted to Islam months ago."

The FBI said Monday that there are no apparent links between the shooting and international terror groups.
This story has been updated with a statement from Google.
Popular in the Community