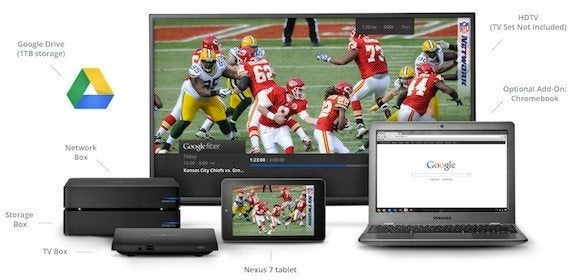 Google on Thursday unveiled its first ultra-high speed Internet service, saying it will offer broadband connections up to 100 times faster than what many Americans receive today.
The search giant's new Internet service, known as "Google Fiber," is currently available only to residents of Kansas City, Mo., and Kansas City, Kan., which beat more than 1,100 cities in a competition to be the first to receive Google's new broadband network.
Google said customers who subscribe to the ultra-high speed web connections -- which measure a gigabit per second -- will no longer need to wait for videos to buffer or websites to load. They will be able to share large files instantaneously and take advantage of advancements in online education and health care that will require the fastest Internet speeds.
The first homes will receive service this fall and all neighborhoods will be wired by the end of 2013. Google says it will also wire schools, libraries and hospitals in Kansas City. About a quarter of Kansas City residents have no broadband access at home, according to the company.
Google says its high-speed Internet service will cost residents $70 a month or $120 a month for a broadband and TV package, which comes with a Nexus 7 tablet that is used as a TV remote. Residents will also have the choice to receive basic broadband service for free after paying $300 for construction costs.
Internet speeds in the U.S. are only slightly faster than what they were when broadband was first introduced 16 years ago, according to Milo Medin, Google's vice president of access services.
Also, a project called Gig.U plans to build ultra-high-speed Internet networks in communities surrounding several research universities.
For example, the study found that Hong Kong residents receive Internet speeds that are 20 times faster than those for New York City residents, while paying roughly the same price -- $35 a month -- as New Yorkers do.
Related
Popular in the Community