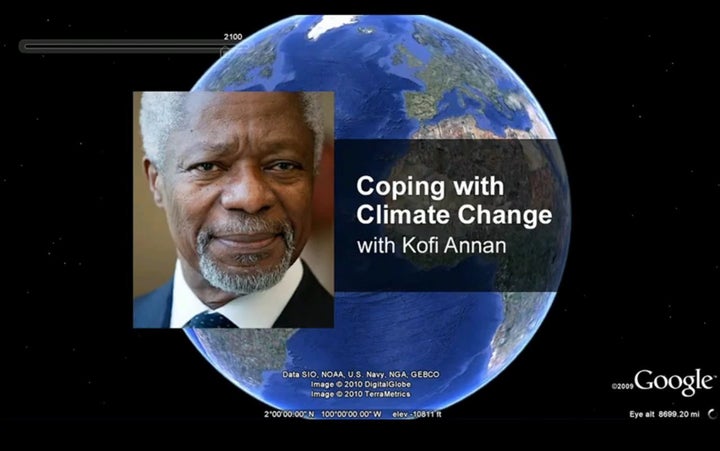 If we need creativity to combat climate change, Google is up for the challenge. Google Earth has created a series of tours and videos to address the issue of climate change in anticipation of the UN Framework Convention on Climate Change (COP 16) occurring this week and next in Cancun, Mexico.
One featured video, "Coping With Climate Change" is even narrated by Kofi Annan. The video highlights people who are actively fighting climate change and those who already must cope with global warming. Annan offers concrete advice on ways to pursue a green revolution, focusing on groups like the Alliance for a Green Revolution in Africa (AGRA). Other videos in the Google series include a 3D flight over tree canopies and an exploration of Mexico's mangroves. Many of these presentations will be incorporated into workshops that Google is putting on at COP 16.
This isn't the first green initiative that Google has pursued. Google proudly touts efforts to compute efficiently, green its employees, and reduce its carbon footprint. They've even created a three-step program to become carbon neutral, which includes developing utility scale renewable energy that is cheaper than coal, known as RE. Dan Reicher, a key developer of RErecently hired by Stanford to head up an energy policy center, a hire that further emphasizes the green brains churning in the Googleplex.
Critics have questioned Google's green initiatives in the past, citing that Google searches produce high electricity consumption and greenhouse gas emissions. But with this newest addition to Google's piling mound of green initiatives, the company is certainly making an effort to disprove its critics and demonstrate a vested interest in our changing climate.

Calling all HuffPost superfans!
Sign up for membership to become a founding member and help shape HuffPost's next chapter