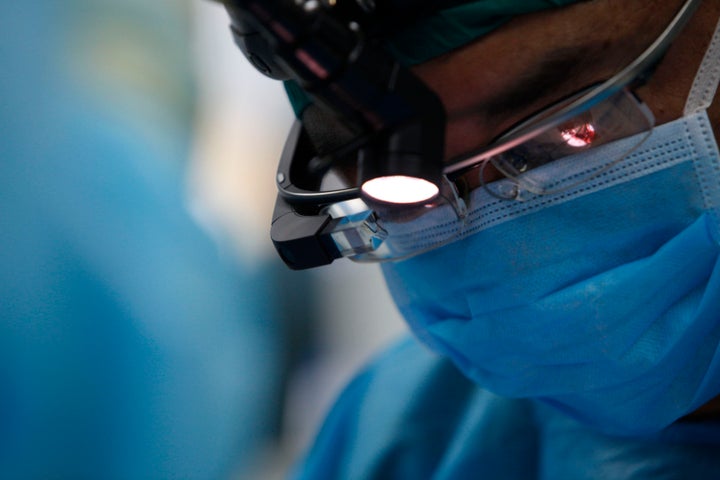 For the study, emergency room residents confronting a case of suspected poisoning would first call a toxicology expert on the telephone, as usual, to reach a preliminary diagnosis. But they would then don a specially programmed Google Glass and go to the patient's bedside to stream video, audio and photos of the patient to the expert in real time.
The study's authors reported on the results of 18 such consultations. The information from Glass led the remote experts to change their diagnosis in four of these cases, and to change their therapeutic recommendation in 10 of the cases, or 56 percent.
Dr. Edward Boyer, one of the authors, told The Huffington Post in an email that Glass is particularly well-suited to toxicology because diagnosing the cause of a poisonings is largely done using visual cues, in contrast to other specialties that rely more on diagnostic testing.
"Glass allows a detailed image of the clinical findings of the physical examination to be transmitted to an expert," Boyer explained. "Instead of hearing a doctor say, 'I don't know what he's got, but he looks weird,' I can now see specific traits in a patient with red, dry skin [and] large pupils [who] is feebly picking at things and has mumbling speech. That lets me diagnose a specific toxic condition and determine therapy."
Dr. Peter Chai, another author, added that telemedicine in general is a crucial part of toxicology because few hospitals -- especially small ones in rural areas -- have expert toxicologists on staff. Chai added that Google Glass is far better suited to the physical environment of hospital clinics than most competing technologies.
"With a wearable device like Glass, the physician is able to turn any part of any ER into an advanced telemedicine suite without investment in bulky hardware by just walking into the room," Chai said.
Boyer said that he believes the main barrier to hospitals' use of Google Glass for toxicology is the cost of the device -- especially given that poison control centers offer doctors diagnostic help over the phone for free. Others have said that products such as Glass raise concerns about patient privacy, though several companies have developed software that allows Glass to comply with federal patient privacy laws.
Another obstacle is, of course, the waning of Google's support for Glass. The company is still actively pursuing business applications for the product -- including medicine. And toxicology is just one area of interest for doctors; some have also used Google Glass to assist with dermatology, neurology and even surgery.
If these other areas prove as promising as toxicology, hospitals could end up being a crucial market for Google. In other words, the key to saving Google Glass may be saving lives.