 Google's Project Glass video -- released in April and shared wide and far over the Internet -- presented a set of so-called "Google Glasses" that were capable of several impressive functions: The spectacles in the video could display the weather, give turn-by-turn directions and automatically reveal information about anything you were looking at, all on a small monitor in front of your eyeball. The video, Google said, did not necessarily contain the features that its Glasses were capable of but was rather meant as a conversation starter: A post on Google+ asked viewers to share with the Project Glass team what functions they'd like to see on a more complete version of Project Glass.
Many commented on Google+; others likely emailed. One guy, however, went above and beyond and built his own set of Augmented Reality glasses and -- instead of commenting or emailing -- is showing Google and the world what is already possible in a series of videos on YouTube.
We've already introduced you to British tinkerer Will Powell and his homemade Google Glass, a DIY set of high-tech eyeglasses that function much like the Glasses in Google's whiz-bang video. Clunkier than the pair of glasses Google is showing off, Powell's Glass-like device is nonetheless loaded with some impressive functionality, including full voice recognition, an on-device camera and a full MP3 player.
Now, Powell has added a new trick: real-time language translation.
In a video posted to YouTube, Powell shows how he and a conversation partner are able to communicate using different languages thanks to an automatic translation application on Powell's set of Glasses. In the video, Powell speaks English and his sister speaks Spanish, and the English translation of his sister's speech appears in real-time on the display of Powell's Glasses, thanks to a simple use of Microsoft's Translator service.
You can watch the video below to get a sense of how it works. The translations appear on both the television screen in the background of the scene, as well as on the inside display of Powell's headset:
Over on Powell's blog, there's much more information about how the headset was made and how the auto-translation works. Essentially, he's using 2 Raspberry Pi computers running Debian and Microsoft Translator, all hooked up to Vuzix video glasses and two microphones. Here, also from the blog, is a photo of the inside of the glasses, which gives you an idea of what it might look like to view a screen in front of your eye: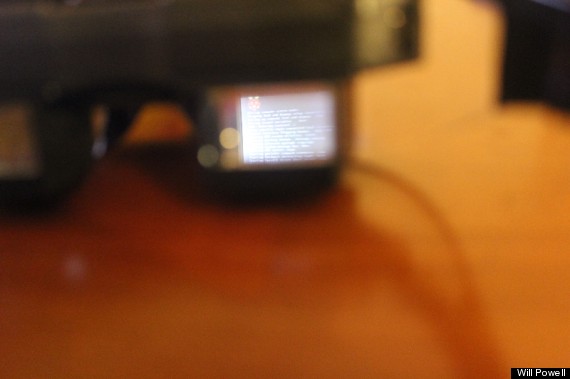 The real Project Glass product, meanwhile, will apparently be ready by the end of 2013, with developer models shipping out some time early next year. At the recent Google I/O conference, interested developers were able to pre-purchase these upcoming developer models for a whopping $1,500 apiece; when the high-tech specs go on sale for consumers, however, they should cost significantly less than that, according to Google co-founder Sergey Brin.
Check out the slideshow (below) to see some amazing pics and videos of (and taken by) Google's Project Glass.

Related
Before You Go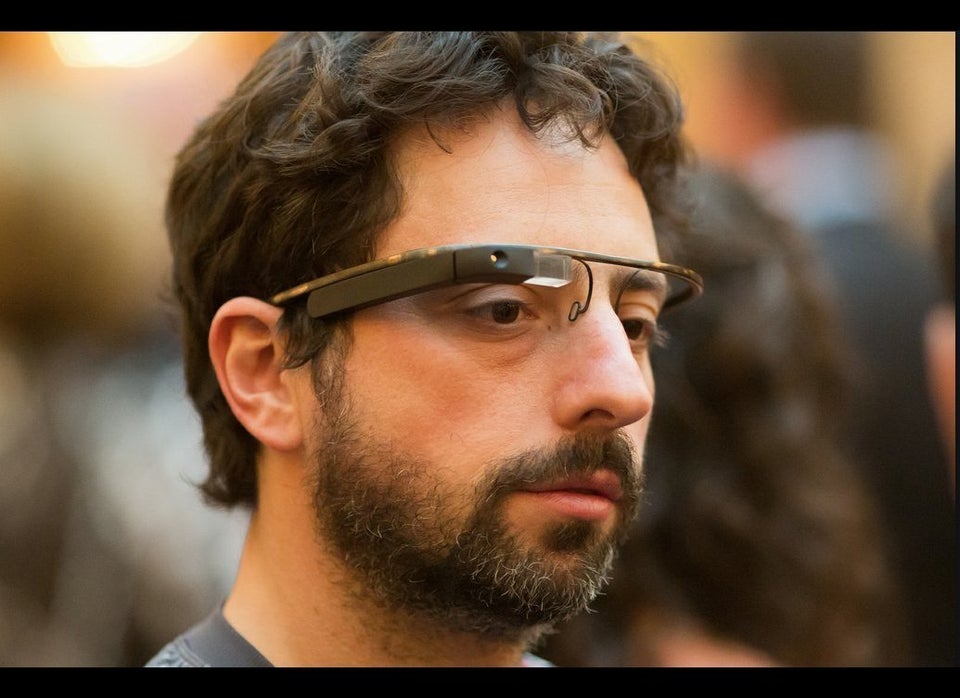 Every Picture Of Google Glasses So Far
Popular in the Community