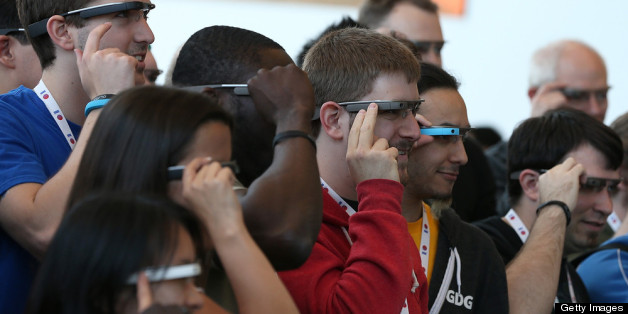 Google announced Wednesday that it will begin shipping Google Glass to the 8,000 individuals chosen to purchase an early version of the tech giant's wearable computing device.
In February, Google launched a contest inviting U.S. residents to submit applications detailing how they'd use Glass for a chance to join Google's Explorer Program. Glass Explorers would be able to buy an early version of Glass for $1,500, months before the product's forthcoming release to the public at large. General sales for Glass are expected to start in late 2013 or early 2014.
Google selected the "winners" at the end of March, and will now begin taking orders. Glass, which suspends a small glass cube over the wearer's right eye, allows people to search the web, translate phrases, send messages, take photos and film video, among other capabilities. Developers from Twitter, Elle, The New York Times, Facebook and other companies have already announced plans to create applications for Glass.
"In February, we opened up the Explorer Program by asking people across Google+ and Twitter what they would do if they had Glass. We were looking for bold, creative individuals to become our next wave of Explorers -- and wow, did we get them," Google's Project Glass team wrote in a post shared on Google+. "Over the next few weeks, we'll be slowly rolling out invitations to successful #ifihadglass applicants. If you were one of the successful applicants, please make sure you have +Project Glass in your Circles so we can send you a message."
Google also tweeted that people selected for the program should follow @ProjectGlass in order to receive a direct message with instructions for ordering Glass. According to Marketing Land's Matt McGee, Google's emailed instructions for purchasing Glass specified that he should phone a 1-800 number, and then order Glass by sharing his "unique code" (and, presumably, his credit card information).
While some 8,000 people will be eligible to purchase Glass, it's unlikely that that many will shell out $1,500 for a still-buggy piece of technology -- albeit one as futuristic as Glass. Crowdfunding websites like Kickstarter, Indiegogo and FundMe have been teeming with requests from people hoping to raise money to buy Glass.
"My daughter has two hobbies: jumping horses & making videos. Using Google Glass will let her share the experience from her perspective," wrote one Kickstarter user, whose campaign failed to raise the $1,500 he was seeking within its deadline.
On Indiegogo, fundraisers seeking the cash to buy Glass are pitching it as a way for them to reinvent live performance, document life as an "avid social media user...in South Korea," experiment with new teaching approaches inside a school classroom and capture New Orleans "through the eyes of a native." There's even someone hoping to use Glass to document the Battle of Gettysburg as seen by a historical reenactor.
There are also privacy concerns surrounding the use of Glass -- members of Congress wrote to Larry Page last week asking him to clarify Glass' privacy safeguards -- and questions about whether its unusual appearance could prevent mass adoption. Glass has been described as "freakish" and "nerdy."
Google announced last week that it had finished distributing Glass to its first group of trial users, the 2,000 developers who signed up to receive the device at the 2012 Google I/O developer conference.

REAL LIFE. REAL NEWS. REAL VOICES.
Help us tell more of the stories that matter from voices that too often remain unheard.
BEFORE YOU GO
PHOTO GALLERY
9 Best Google Glass Parodies