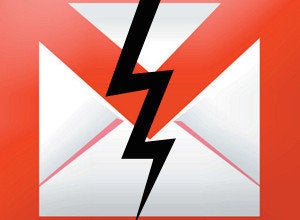 As most of those affected by the Gmail outage return to their inboxes, a lingering sense of unease remains for users feeling neglected by Google, or fearful for the safety of their future data.
40,000 users were affected by the four-day-long wait for Gmail to restore services. As the days went on, aggravation and a sense of wronged bewilderment began to fill the help forums--one of the only places users could congregate to plead with and berate the company that had accidentally lost all their emails.
For a while, a green checkmark appeared on Google's App Status page next to Gmail, giving the "all-okay" sign and vexing users who were still in the lurch.
According to Google, the icon was the result of "the timing of our updates" and users' time zones when they viewed the Dashboard--not quite explaining why it had gone from wrench (signaling an issue with the service), to the checkmark, to the wrench again during that agonizing stretch when affected users checking and rechecking the status bar for the possibility of an update.
That little glitch is indicative of Google's opacity during the situation.
Many users bemoaned Google's failure to provide an actual time frame expected for the fix and to communicate more directly with users.
"Why cant you get a handle on this and give us an ACCURATE time frame? My business depends on it," wrote NOVAKHT on the help forum.
1whitetiger added, "For some of us (myself included) these e-mail addresses are used for thousands upon thousands of e-mails, sensitive and irreplaceable data. Knowing when we can at least hope to expect everything back online by will help us plan our lives accordingly while we have no access to this wealth of important personal data."
For these users stymied by disabled accounts, Google's response was simply not enough.
User alexandermmeyer wrote Wednesday:
I wish i would have been told "days" instead of "hours". I really feel completely invalidated by the fact that none of my support emails, like i was advised to send, have been responded to. It makes me feel like they do not care and that what has happened to all of us in not important.....especially since they do not offer phone support

Google does not have a customer service line on their site. Looking for help on one of the numerous apps Google provides--Maps, Gmail, Docs, and more--can be like running through a funhouse where doors open into dead-ends. Though they offer an array of canned responses, the only interactive options are the help forums, and emails--which can go hours or even days without an answer.
What irks me the most though, the one thing I know for sure, is the poor response. I've sent three or four e-mails (about one a day since this whole mess started) to Google and not gotten responses from them. All I've found is the generic app status that basically says it'll get fixed sometime. That what's killer. Not even a generic "You're having the same issue as lots of other people". I had to play around and find this forum, and at least take some solace in the fact that other people were having the same problem.

For some, irritation turned to fury. 1whitetiger posted a call to arms to fellow sufferers to post their "frustration and disgust with Google" on Twitter, Facebook and blogs, saying, "We need to get the word out about this horrible event and what is really going on ... The rest of the 99.988% of gmail users deserve to know that they cannot trust Google."

Some suggest that Google's troubles could damage the public perception of cloud computing, generally. As prognosticators proclaim the oncoming migration into digital storage, the security and reliability of the services keeping their personal and business information is crucial. johnster67 wrote:
My greater concern is the whole single sign on issue. I was blocked from everything Google offered short of Search and Maps. While I now know this was not due to any action on my part, I can't help but be leery of any cloud based service that doesn't follow consistent development cycles. Facebook immediately comes to mind just as Chrome does. Google releases updates on a whim, rather than on a schedule. This reduces test times, and in my opinion, causes issues such as this.

But perhaps what should concern the company most is lingering distrust that could remain in the wake of the incident, even after email accounts are restored. jjewell wrote:

What is more troubling for me is the default attitude Google has taken in dealing with their users. The "fail" messages haven't been about technical failures, but have almost all originally implied that we violated terms of service, etc ...

I understand that not much can be expected from a free (or even a cheap paid) email solution, but Google positively encourages us to rely upon them in this way, and to default immediately to "remember, we can delete your account any time we want, no matter what" at any error is awful. What I'm left with from this situation is a real sense that if the affected group had been smaller, we would have simply been out of luck ... on the user side, I'm now deeply skeptical.

Google's last message, from Wednesday read:
Gmail should be back to normal for the vast majority of people affected by this issue. If you are still experiencing issues, please contact us at the temporary alias we've set up for this particular issue, gmail-maintenance@google.com. Thanks again for bearing with us.