Blank space on your calendar used to be a good thing. It was your free time, when you could relax, work on a personal project or hang with friends.
Now, Google wants to fill empty calendar space with the activities you'd like to do at some point but never seem to have time for.
The company on Wednesday rolled out Goals, a new feature for the Google Calendar app that lets you schedule activities, like jogging or spending time with your kids, during the hours when you have nothing going on. The feature uses machine learning to organize your life in a way that helps you better meet your personal objectives, according to Google.
Say, for example, you want to go jogging more often. Tell your Google Calendar how much you want to run per week, and the app will find space in your schedule to fit that in.
Just select your goals from a dropdown menu, or enter custom activities you'd like to work on, and the program will ask a few questions -- what time of day is best for that activity, how often do you want to do it and for how long. An algorithm then scans your calendar for open slots and fills them with the things you say you'd like to do more of.
Users can mark each goal as completed or not, which helps the algorithm improve scheduling in the future. The algorithm automatically reschedules activities if conflicts come up.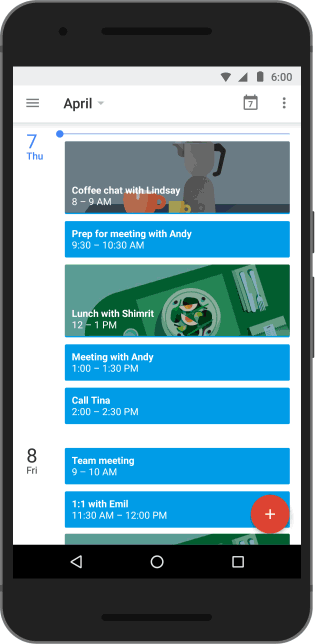 Other goal-setting apps help users establish goals, but they "don't consider the user's schedule," a Google spokesperson told The Huffington Post.
The Goals feature doesn't collect any of the information users input into their calendar, the spokesperson also said. That means people who use the service don't have to worry about Google using data about their goals to personalize search results or serve them ads.
"The data is only used to improve the future scheduling of Goals for the user," the spokesperson added.
But make no mistake: Google already collects a lot of user data. It sweeps up information about web searches, location and emails to alter search results and serve personalized advertisements. While a person's Google account does store their calendar information, it doesn't use that information to personalize ads.
For now, the Goals feature only works on Google Calendar. That means if you have multiple calendars -- say, a personal Google calendar and an Outlook calendar for work -- the algorithm might not have enough information about your schedule to avoid conflicts.  
Calling all HuffPost superfans!
Sign up for membership to become a founding member and help shape HuffPost's next chapter