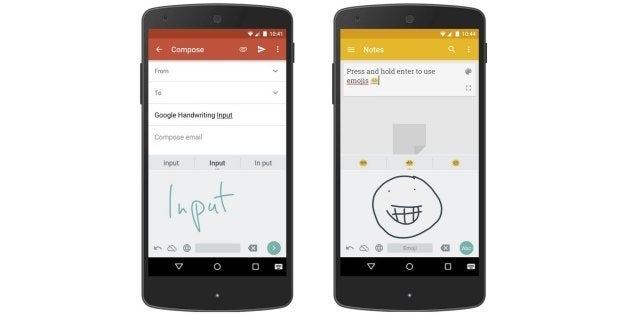 Smartphones are a great communication tool -- when their crummy keyboards aren't messing everything up with typos and autocomplete mistakes.
Enter Google Handwriting Input, a new keyboard app released Wednesday for Android devices. It allows you to simply draw your messages rather than typing them out. It works with absolutely any existing Android app and supports 82 different languages, including Chinese. Best of all, it's a free download via Google Play.
Many products have grappled with solving the problem of touchscreen keyboards. TV personality Ryan Seacrest has a line of Bluetooth keyboards called the Typo, which attaches to iPhones and iPads so that you can type on physical buttons. A simple search for "smartphone keyboard" on Amazon surfaces many similar products. And apps like Swype present completely alternative methods to typing altogether.
But nothing is as natural as handwriting, at least for those of us who still recall learning composition in grade school.
Google Handwriting Input works pretty well, even when you're working with abstract emoji. It recognized that I was scribbling the "sleepy" face on the Google Hangouts app: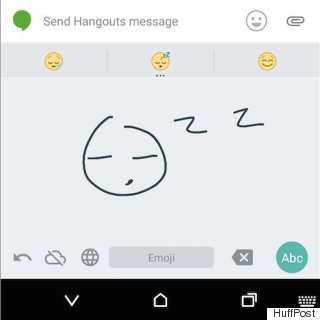 Generally, the software perfectly transcribed my words, though it got a little tripped up with capitalization and spacing when I was explaining the keyboard to my girlfriend. That said, my handwriting is pretty terrible, and it did at least get all of the words right:

Google Handwriting Input isn't the first handwriting "keyboard" app for mobile devices. MyScript, available on iOS and Android, has been around for some time and has racked up hundreds of thousands of downloads.
But Google's offering is comparatively robust. It supports more languages and offers the promise that it draws on "many years of research at Google," with data pulled from Translate Apps, Mobile Search, and Google Input Tools -- other products that have used handwriting recognition. Unlike those products, though, you don't need to be online for Google Handwriting Input to work.
You can try the keyboard for yourself here.
Calling all HuffPost superfans!
Sign up for membership to become a founding member and help shape HuffPost's next chapter