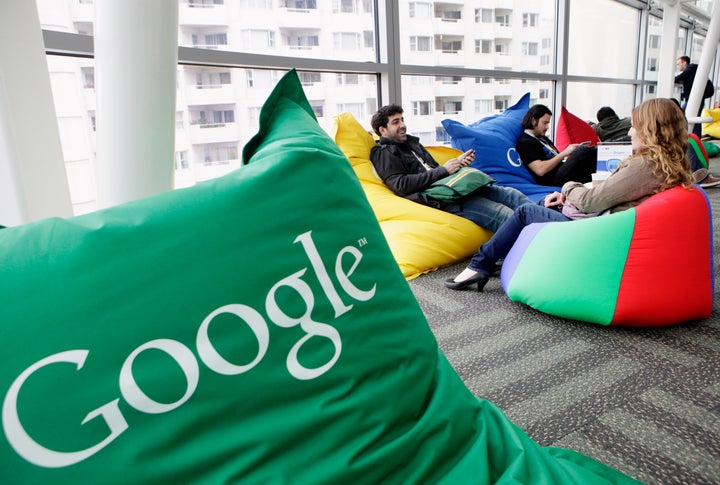 BRADENTON/NEW YORK, May 16 (Andrea Johnson and Danielle Robinson) - Google Inc hit the U.S. bond market on Monday with its high grade market debut, announcing a $3 billion sale of 3-year, 5-year and 10-year notes that will take advantage of low borrowing rates.
Proceeds of the SEC-registered deal will be used to repay commercial paper and for general corporate purposes, the company said in a statement. Citigroup, Goldman Sachs and JP Morgan are joint lead managers on the deal, which garnered an Aa2 rating from Moody's Investors Service, the third-highest rating in the agency's scale.
Google is one of the few large-cap technology companies to actually have debt on its balance sheet -- albeit at about $2 billion of commercial paper, a tiny sum compared to its $169 billion market cap.
The company is the latest in a spate of new or rare technology company borrowers coming to the corporate bond market this year, as they look to take advantage of low interest rates and realize that having some debt makes sense.
"We are seeing some of the large cap tech companies deciding that having debt on the balance sheets is an appropriate way of having a capital structure and running a company, which is relatively new to them," said one banker.
"Generally most of these large cap tech companies have only used the debt markets to finance their acquisitions. They typically don't use the debt markets for anything else."
Now, with rates so low and their own industries having reached a level of maturity, many are using the debt markets as a way of returning value to shareholders, at a time when they have large levels of cash trapped overseas.
Microsoft, for instance, raised funds in the bond market in February in part to buy back shares, while Google is improving its debt profile by extending the maturity of its debt. Both have large levels of cash overseas.
Cisco Systems in March sold $4 billion of three-year fixed and floating rate notes and six-year bonds; eBay in October last year sold $1.5 billion of three, five and 10 year notes.
Google is planning to sell $1 billion of 3-year notes, that launched at 33 basis points over comparable Treasuries. The company will sell $1 billion of 5-year notes at 43 basis points over Treasuries and $1 billion of 10-year notes at 58 basis points over Treasuries.
That compares with market "whispers" that put the 3-year in the mid 30s, the 5-year in the high 40s and the 10-year in the mid 60s. Pricing is expected later on Monday.
At the guidance stage, sources heard book size on the deal was already up to $8-$9 billion, with sources originally hearing there was little chance of an increase.
Google may grab the lowest coupon levels seen so far this year.
The 2011 coupon to beat in 3-years is 1.25 percent, with both IBM and Colgate-Palmolive pricing deals with a 1.25 percent coupon.
The 2011 coupon to beat in 5-years is 2.50 percent set by Microsoft on Feb 3.
The 2011 coupon to beat in 10-years is 3.85 percent, set by Berkshire Hathaway's Pacificorp last week.
While at the lowest levels seen since December 2010, benchmark Treasury rates are still not in a spot which would allow any all-time low coupon records to be hit, with the all-time low coupon record in 3-years at 0.75 percent, in 5 years at 1.375 percent and in 10-years at 2.95 percent.
Google's strong debt protections measures are backed up by its almost $11 billion of operating profit and $7 billion of free cash flow for fiscal 2011, ended March, according to Moody's Senior Vice President Richard Lane.
The company also has nearly $37 billion in cash balances, he said.
"These strengths, combined with solid business execution, will drive strong profitability, significant free cash flow generation, and ample financial flexibility," Lane said.
However, the company is facing challenges from well-funded rivals, including Microsoft, rated Aaa, and Apple, which is not rated, along with private companies such as Facebook, he said.
"An additional rating constraint considers the still developing nature of Internet technologies, usage, and behavioral patterns, all of which pose challenges to constantly invest and innovate," he said.
(Reporting by IFR senior analysts Andrea Johnson and Danielle Robinson; Additional reporting by Reuters reporter Jennifer Saba; Editing by Ciara Linnane)
Calling all HuffPost superfans!
Sign up for membership to become a founding member and help shape HuffPost's next chapter