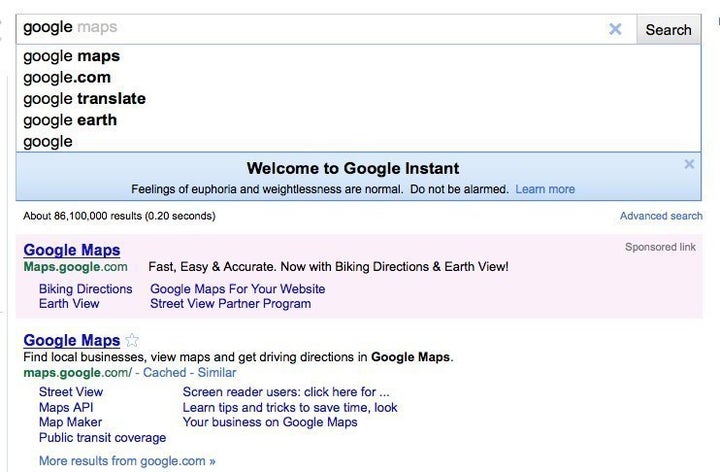 With Google Instant, now the default setting for the search engine, "results appear instantly as you type, helping you see where you're headed, every step of the way," Google explained in a blog post (Learn more about Google Instant).
Although many are impressed with the new search feature, others feel it's less helpful and for some it seems not to be working: Thursday morning, "Google Instant not working" was a top query on Google Trends.
The rollout of Google Instant started Wednesday in the U.S. and will continue across different geographies. Google's Marissa Mayer noted, "We'll also be offering Google Instant to our users in France, Germany, Italy, Russia, Spain and the U.K. who are signed in and have Instant-capable browsers. Over the coming weeks and months, we'll work to roll out Google Instant to all geographies and platforms."
Have you had trouble getting Google's Instant search to work? If so, you can see a preview of the new search feature here.
You might also be unable to access Google Instant due to your browser (Google Instant works with Chrome, Firefox, Safari and IE 8) or if you don't have the latest version of your browser. If this is the issue, users that go to "www.google.com/instant/" will receive a message from Google that reads, "Google Instant is not available for your web browser. Please upgrade to the latest version of a modern browser to use Google Instant."
In a Google help forum, users with Google Instant problems were advised to try "clearing your browser's cache and deleting your cookies." (More here)
Calling all HuffPost superfans!
Sign up for membership to become a founding member and help shape HuffPost's next chapter