As The Register observes, Google Instant "includes a blacklist for words and phrases involving what the company considers 'violence, hate, or pornography.'" Whereas querying for neutral terms like "weather" or "restaurant" offers up a dropdown menu with suggested terms and presents a page of relevant search results, the streaming search tool does not work with "NSFW" search terms, which cause the page to go blank.
"We care a lot about child safety and these kinds of issues, so we had to think a lot about auto-complete and how that works as you're getting the results," Google product manager Johanna Wright said, according to The Register. "As a result, if you're typing for something that may not be appropriate for certain people to see, you won't see results until you press enter."
But many anatomical terms are also being censored by the search engine, although not consistently. As the slideshow below demonstrates, a query for "breast" and "testicle" were accepted by Google Instant, whereas typing "penis" or "vagina" were not compatible.
Users have taken issue with the restrictions on Google Instant searches. Robert Scoble tweeted Wednesday, "I want to turn off the Google censor on Google Instant. Try searching for a naughty word. Doesn't work. I feel like I live in China. Thanks!"
What do you think of Google's policy? See how Google Instant treats different queries in the slideshow below. Are the censored terms justified or not? Learn more about Google Instant , then check out users' reviews of the new tool, as well as the Google Instant "alphabet."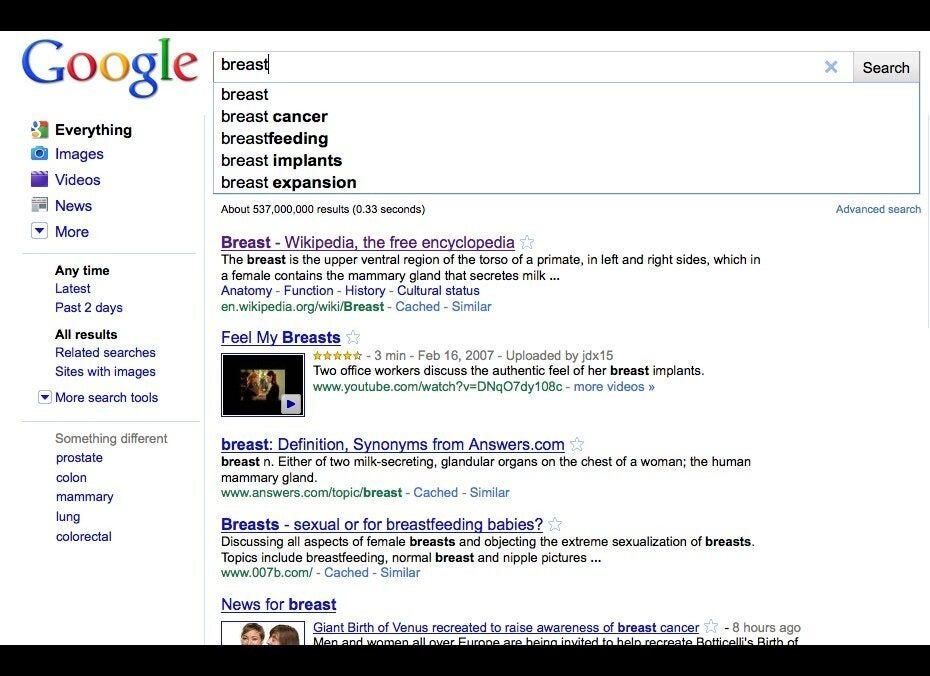 Popular in the Community