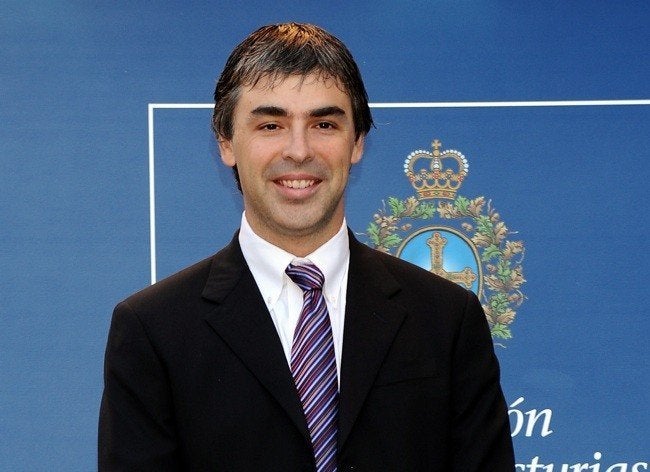 By Alexei Oreskovic and Noel Randewich
* Says co doesn't "bet the farm'' on speculative projects
* Says cloud technology improves Google security
MOUNTAIN VIEW, Calif./SAN FRANCISCO (Reuters) - Google Inc spends its money prudently even as it bets on "speculative'' projects like self-driving cars, Chief Executive Larry Page said in his most lengthy public remarks since taking the top job two months ago.
"We are very careful stewards of shareholder money,'' Page said at the company's annual shareholder meeting Thursday. ''We started, remember, as a start-up in a garage, and we're very careful about our spending.
Spending at Google, the world's No.1 Internet search company, has been an area of focus for investors who worry that it might lower the company's profit margins. Page, who co-founded Google as a graduate student more than a decade ago, has a reputation for advocating ambitious projects with uncertain returns, such as digitizing library books.
Shares of Google underperformed the market in 2010 and are down roughly 16 percent since the company said in January that Page would replace Eric Schmidt as CEO.
Page unnerved investors again when made his debut as CEO in April and spoke for only a few minutes before signing off from the company's quarterly financial results conference call.
Speaking before shareholders assembled at Google's headquarters Thursday, the 38-year-old Page gave a progress report on the success of various Google businesses such as its Android smartphone operating system.
He said the company accomplished a lot since the management change that put him in the CEO suite in April, particularly in terms of increasing the pace of operations within the company.
Referring to the recent attacks on Google Gmail user accounts, which the company disclosed Wednesday, Page said that the incidents were not the result of a breach of Google's security, but a case of stolen passwords. And he said that Google's Internet-based "cloud'' technology helped Google detect the attacks and would help improve security.
Page said search and advertising remain Google's core businesses and the company's most significant area of investment.
"At Google we have a philosophy that we don't want to choke innovation. So we want to make sure that we've got a lot of things going on in the company that are maybe speculative, maybe there's few people working on them and they really hope that they're going to build a billion-dollar business,'' Page said.
But, he added later, "We're not betting the farm on a lot of those things.''
(Editing by Robert MacMillan)
Related
Popular in the Community