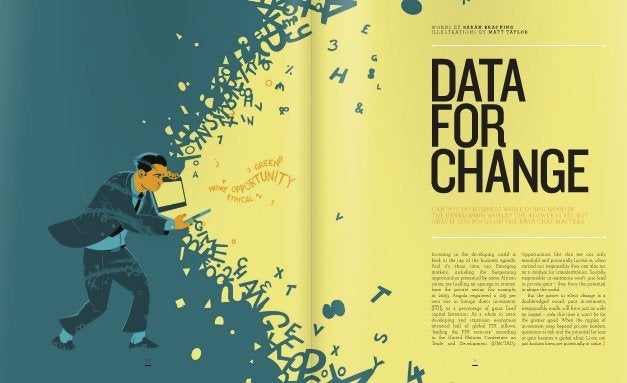 Google's made an online magazine, and the result is just as glossy as any printed product.
The full-length periodical, called Think Quarterly, was launched as an extension of the communications Google regularly sends business customers "via email newsletters, updates on our official blogs, and printed materials," according to the site.
The online journal comes replete with gorgeously designed graphics, and a sleek online interface that's a pleasure to peruse.
"At Google, we often think that speed is the forgotten 'killer application' - the ingredient that can differentiate winners from the rest," managing director Matt Brittin introduces the publication. "But in a world of accelerating change, we all need time to reflect. Think Quarterly is a breathing space in a busy world. It's a place to take time out and consider what's happening and why it matters."
The first issue is "dedicated to data," asking how "amongst a morass of information, how can you find the magic metrics that will help transform your business?" Google's foray into original publishing features the work of journalists, academics, and executives, with articles digging into data obesity, information overload, mobile sources of data, and the history of data capture. The material is a mix of infographic, interview and essay, with a keen eye to theory, practice, and history.
The next issue drops in May, but the company notes that they have "no plans to start selling copies" emphasizing that the magazine is "firmly aimed at Google's partners and advertisers."
With the launch of One Pass, Google's subscription service, Google drew speculation that it might be developing into a media-oriented company. With stronghold YouTube in digital video (said to be opening original online channels for celebrities), huge power in the online advertising market, and increased attention to content curation evident in its recent search algorithm tweak, Google's got its fingers on the future of media distribution on the web. Though this magazine is at least nominally, strictly a trade publication, the move seems to show the company flexing some media muscle.
Related
Popular in the Community