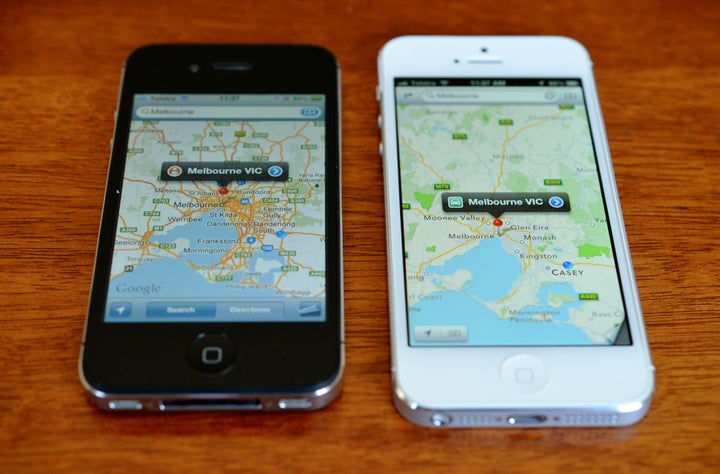 There may be light at the end of the tunnel for iPhone users yearning for the return of Google Maps.
iOS 6, which Apple released to the public last week, powers the iPhone 5 and is available as an update for users who also have iPads, iPod Touches and past models of the iPhone. Unlike previous versions of the mobile operating system -- which included Google Maps for navigation -- Apple chose to drop Google and go with a new "Maps" app, a service Apple built in conjunction with GPS mapping company TomTom.
"It appears to me that they [Apple] seriously underestimated the size of this challenge," Mike Dobson, founder of mapping consultancy TeleMapics, told The Huffington Post's Bianca Bosker last week. "It's obvious to me that the first time humans ever saw parts of Apple's maps is when users looked at it in iOS 6."
iOS users, meanwhile, are clamoring for the return of the tried-and-true Google Maps app. Our own Jason Gilbert even suggests that the omission of Google's popular service should be enough to make users think twice before upgrading to iOS 6.
But Apple announced back in June that it would be dropping Google Maps from the most recent version of iOS. So why wasn't Google ready with a standalone maps app for iOS 6 users to download? According to The Verge, Apple decided to terminate its contract with Google more than a year ahead of schedule.
"The decision, made sometime before Apple's WWDC event in June, sent Google scrambling to develop an iOS Google Maps app — an app which both sources say is still incomplete and currently not scheduled to ship for several months," The Verge wrote after obtaining statements from two "independent sources familiar with the matter."
Unnamed sources also told The New York Times that a Google Maps app for iPhone and iPad will be ready by the end of 2012. The Times' tipsters also said that Google was blindsided by Apple's decision to build its own Maps application before the companies' partnership officially ended.
Google Chairman Eric Schmidt, who recently spoke with reporters in Tokyo about the iOS 6 maps debacle, said that his company's hands were tied when Apple made its decision. "We think it would have been better if they had kept ours. But what do I know?" Schmidt said, according to Reuters. "What were we going to do, force them not to change their mind? It's their call."
Schmidt also said, per Reuters, that Google has not yet submitted a maps app for Apple to green-light or reject as it sees fit, a process the iPhone maker puts developers through before a new app becomes available in the iTunes App Store.
We reached out to Google for a comment on the reports that it is preparing a maps app for iPhone. "We believe Google Maps are the most comprehensive, accurate and easy-to-use maps in the world," a Google spokesperson wrote via email. "Our goal is to make Google Maps available to everyone who wants to use it, regardless of device, browser, or operating system."
Take a look at the gallery (below) to see some of the worst iOS 6 Maps fails. Do you miss Google Maps on your iPhone or iPad, are you doing just fine with Apple's Maps app, or have you switched to a new maps service for your iDevice? Let us know in the comments.
What do you think of Apple Maps? Has it made you late or gotten you lost? Do you have horror stories to share? Or rave reviews? Let us know: email us at technology@huffingtonpost.com or tweet @HuffPostTech.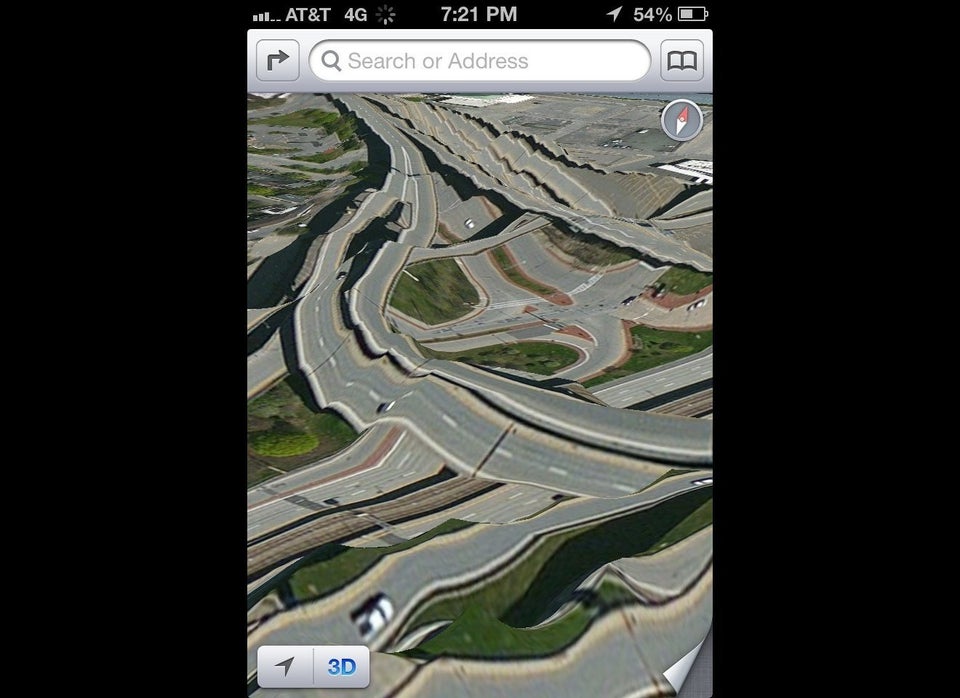 The 19 Most Ridiculous Apple Map Fails
Related
Popular in the Community