Google is giving the world a never-before-seen, detailed look at one of the most secretive countries in the world: North Korea.
On Monday, Google announced that it had updated Google Maps with a more comprehensive view of North Korea, complete with streets, monuments, nuclear complexes and prison camps.
"As part of this mission, we're constantly working to add more detailed map data in areas that traditionally have been mostly blank," reads Google's announcement, written by Google Map Maker Senior Product Manager Jayanth Mysore.
To build the map of North Korea, a community of citizen cartographers spent years using Google Map Maker to contribute to the draft. On Monday, around 9 p.m. EST the map went live.
Google Maps users can peruse the North Korean landscape to see the Kumsusan Memorial Palace, which houses the bodies of Kim Il Sung and Kim Jong Il; an armory; a theater and adjacent guards' bathroom; and even Camp 22, or the Hoeryong Concentration Camp, in North Hamgyong. Scroll to the North Korean countryside, and the image data becomes scarce, notes CNN. Controversial areas like the Yongbyon nuclear complex and the Yodok and Hwasong gulags have little detailing.
This new look at North Korea is unprecedented and will give many Internet users the opportunity to explore the so-called Hermit Kingdom like never before.
"For a long time, one of the largest places with limited map data has been North Korea, but today we are changing that," reads Mysore's blog post. "While many people around the globe are fascinated with North Korea, these maps are especially important for the citizens of South Korea, who have ancestral connections or still have family living there."
"This data has been in Map Maker for a while now, but it commonly takes the Map Maker community a few years to generate enough high quality data to make something that works in Google Maps," the spokesman said.
The new map images also pull back the curtain on some of North Korea's darkest secrets. Satellite imagery, coupled with detailing, offers new proof of the existence of the country's government-run prison labor camps, where as many as 250,000 political prisoners may be held.
"Satellite imagery readily available through Google Earth has certainly enabled human rights experts to decisively confirm that these facilities do exist," Greg Scarlatoiu, executive director of the Committee for Human Rights in North Korea, told Reuters earlier this month, "despite the fact that the North Korean regime denies their existence."
PHOTOS: Click on the images to view an interactive version of the map on Google.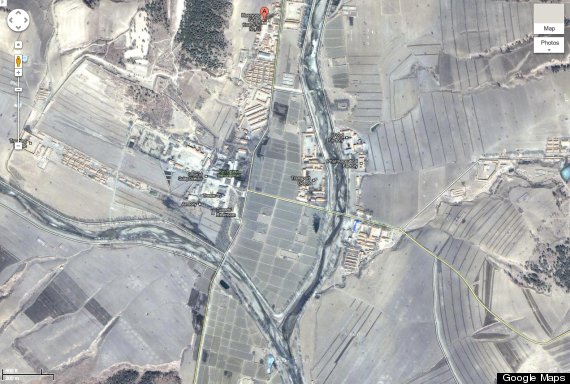 Pictured above, Hoeryong Concentration Camp, North Hamgyong, North Korea
Popular in the Community