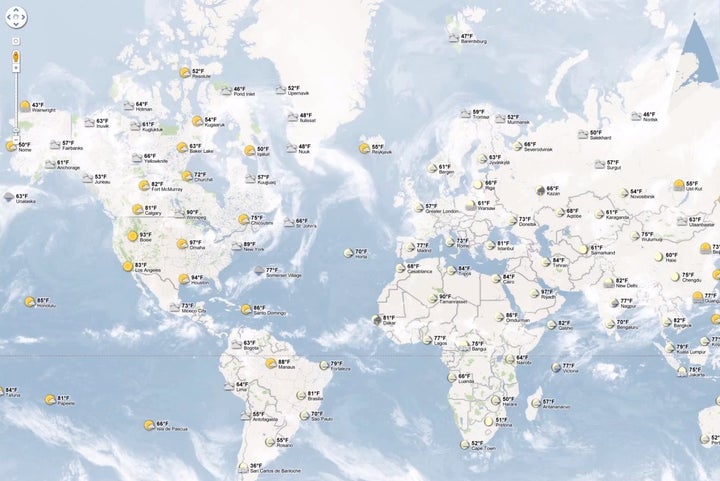 Google announced on Thursday that it has added a weather layer to its popular Google Maps tool, allowing users to instantly see current temperatures and weather conditions overlaid on its maps.
To add the weather layer, hover over the widget in the upper right corner of Google Maps and select the weather layer from the list of options. When zoomed out, you'll see a map with current weather conditions from weather.com for various locations, with icons to denote sun, clouds, rain and so on.
Weather data will not appear when users zoom in too far on specific locations. After taking a look at weather in cities in the U.S., Africa, Europe, Asia, Australia and South America The Huffington Post found that in nearly every instance, the weather data appeared when the user clicked the "minus" (zoom out) button seven times. In Barcelona, users have to click eight times for the weather to appear.
Matt McGee of SearchEnglineLand.com notes that Microsoft's Bing has had a weather application for Bing Maps "for some time now," but it provides Doppler radar and satellite images instead of temperature readings.
Images of weather overlaid in Google Maps from Google's promotional video: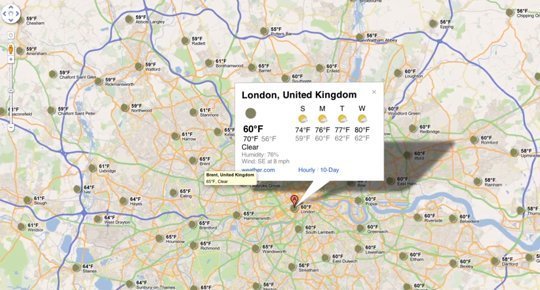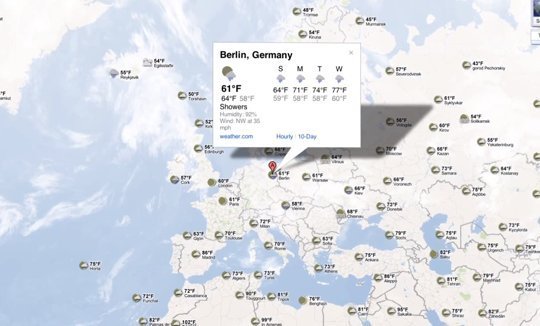 Popular in the Community