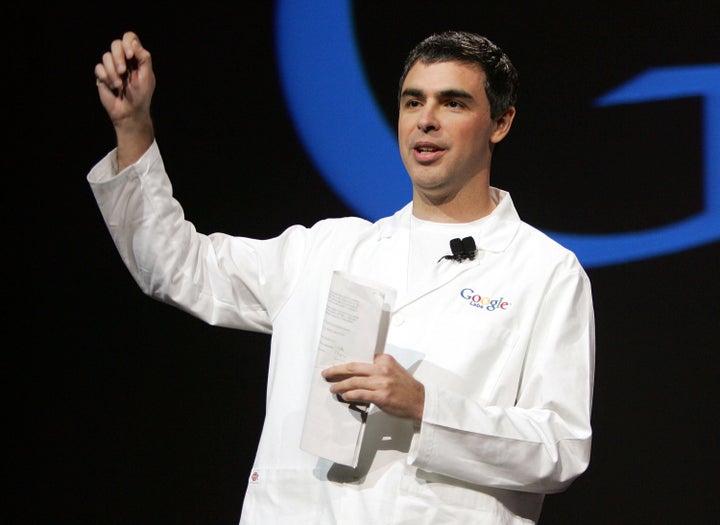 Google's decision to buy Motorola Mobility for $12.5 billion, the search giant's largest acquisition to date, underscores a major shift in Google's strategy, one that stands to transform the web giant from a company focused primarily on online services, such as search and email, to a hardware manufacturer building phones, tablets and other electronic devices.
The expansion opens up a new front in Google's head-to-head war with Apple, putting the two giants in direct competition with one another in several markets, as Google embraces Apple's approach to gadgets by controlling all aspects of development.
"Google is moving into hardware, which is very different from what they've done all along," said Darren Hayes, a computer science professor at Pace University. "It's very difficult for a company to be able to be a successful software and hardware company. It worked for Apple to be in the hardware and software industries, but not all companies have been that successful." Google's move toward Apple's close management of software and hardware signals a departure from its previous path and suggests Google may be dissatisfied with its current software licensing arrangements, which have led to the proliferation, but also fragmentation, of its Android mobile operating system.
Most directly, the deal marks a defensive maneuver in the high-stakes patent war that has pitted the world's largest technology companies against one another in dozens of drawn-out intellectual property (IP) disputes.
Google CEO Larry Page framed the acquisition as a means to protect Google's Android mobile operating system against "anti-competitive threats" by shoring up his company's arsenal of patents. Analysts agree that Motorola's 17,000 patents and 7,500 patent applications are a major win for Google, which lacks a robust portfolio of wireless patents relative to more established players and has been vulnerable to lawsuits from the likes of Apple, Microsoft and Oracle. Over forty lawsuits have been filed against Android, and ongoing patent disputes threaten to impose licensing fees on the software Google has given away to phone manufacturers for free, potentially jeopardizing Android's explosive growth. "Google is a relatively new entrant in the mobile space and does not have a lot of mobile IP, so anything it can do to build up its IP in the wireless space will help reduce potential risk to the company from lawsuits in the future," said Ovum analyst Nick Dillon. "If you look at Motorola's history and role in pioneering mobile communications from the very start, you'll see they have some really key patents that will be useful to Google." Yet patents are only part of the story, experts say. The acquisition suggests that Google sees itself as unable to adequately compete in the mobility market without its own handset manufacturer. Google's bet is that having greater control over smartphone software and hardware will help it move beyond the desktop and beyond search.
Owning Motorola will allow Google, more than ever before, to create mobile devices that satisfy the web giant's vision for what cellphones and tablets should be able to do. A new breed of Motorola smartphones could be designed from the ground up to integrate Google products at every turn, from featuring the Google-plus social network to adding near field communication chips that allow cellphones to be substituted for credit cards via Google Wallet. Fundamentally, Motorola offers Google a bridge from the digital to the physical world, and with it, a means of gaining valuable information about its users, such as their locations or what applications they use the most. Though Google said that it will continue to license its Android software, its mobile strategy will cease being at the mercy of third-party handset manufacturers like HTC and Samsung. Instead, Google will able to dictate the price, distribution and features of its own line of devices. "Google no longer has to put its future in the hands of companies that deliver mediocre Android devices that damage the whole ecosytem," explained Michael Gartenberg, an analyst with the research firm Gartner Group. "Apple's success was built on controlling its own destiny and not relying on third parties to deliver its vision. Google is saying, "We're going to deliver our vision as we see fit, much as Apple has.'"
Google also stands to bolster its efforts to gain inroads into the living room by spreading to TVs. Google TV, which was unveiled lat year but was unable to gain much traction, may stand a better chance when paired with Motorola's set-top box offerings. Until now, Google has been essentially hands off when it comes to hardware: it has offered its Android software to manufacturers at zero cost, without a having a say in the form of the phones Android will power. This disruptive and unorthodox strategy has allowed Google to gain enormous market share in very little time, overtaking Apple to claim 48 percent of the global smartphone market, according to Canalys.
To some extent, quality has been sacrificed for quantity as Android has expanded to more than 150 million devices made by more than thirty different manufacturers. Google frequently updates its Android software, but app developers, manufacturers and carriers are not always able to keep up, resulting in a proliferation of different versions of the Android operating system offering a range of experiences for users. Depending on Google's relationship with the handset manufacturer, or the manufacturer's approach to upgrades, a consumer could purchase a smartphone running outdated software, straight out of the box. Not all Android apps perform equally on different versions of the software, an issue that has been a source of frustration for users and developers alike.
Google is staking billions on its ability to successfully control both the software and hardware components of its company's devices -- all while not alienating its partners, who have been instrumental in Android's rise and with whom Google will directly compete once the Motorola acquisition is complete. "Google has had history of picking favorites, but it's never directly competed with manufacturers," said Ovum analyst Dillon. "Manufacturers have come out with statements of support. But what's said in public in one thing, and what's said behind closed doors is another."
Related
Popular in the Community