Women searching Google for family planning resources will no longer be shown deceptive advertisements from organizations trying to talk women out of abortions.
Google says that it will remove online ads bought by some crisis pregnancy centers (CPCs) that pretend to offer abortion services but which in reality try to dissuade women from the procedure. The story was first reported by the Washington Post.
The decision comes on the heels of an investigation by NARAL Pro-Choice America, an organization that campaigns against restrictions on abortion rights. It found that 79 percent of CPCs that advertised through the search engine claimed to offer the full spectrum of family planning services while actually only offering counseling and abortion alternatives.
Here's one of NARAL's examples of the misleading ads: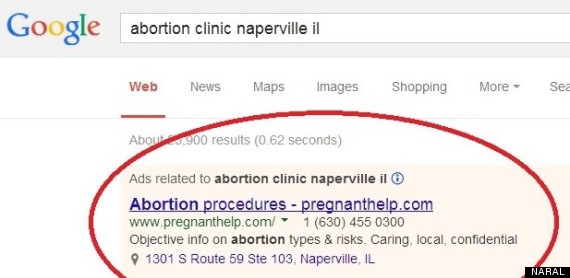 According to the organization, that facility doesn't actually offer abortions.
It's the alleged deception, not the centers' politics, that Google has a problem with.
"We're constantly reviewing ads to ensure they comply with our AdWords policies," a Google spokesperson told The Huffington Post. "If we find violations, we'll take the appropriate actions — including account disablings and blacklists — as quickly as possible."
Google added that it is only removing ads that it deems deceptive, not all the ads from the centers. Anyone who believes an ad is misleading can submit a complaint to Google.
"Google's leadership in removing the majority of these ads is a victory for truth in advertising," NARAL said in a statement. "Countless women will be spared lies and shaming tactics intended to stop them from making their own decisions based on real medical advice."
This isn't the first time CPCs have been called out for misleading patients. A 2006 congressional report found that 87 percent of federally funded CPCs "provided false and misleading information about the physical and mental health effects of abortion and grossly exaggerated the medical risks of abortion." Undercover investigators posing as 17-year-old girls were told that abortion leads to "breast cancer, infertility, and mental illness."
Support HuffPost
The Stakes Have Never Been Higher
Related
Popular in the Community