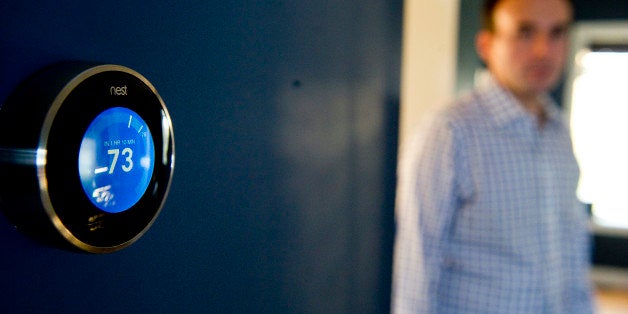 Founded by former Apple engineers Tony Fadell and Matt Rogers in 2010, Nest grabbed headlines for its pricey line of Internet-connected thermostats and fire alarms -- products not usually known for being sleekly designed or particularly high-tech.
Nest sells its thermostats on the promise of saving homeowners energy by learning their daily habits and adjusting temperature accordingly. And it set out to make smoke detectors radically easier to use: A wave of the hand stops it from beeping.
"Google has the business resources, global scale and platform reach to accelerate Nest growth across hardware, software and services for the home globally," Fadell explained in a blog post. "And our company visions are well aligned – we both believe in letting technology do the hard work behind the scenes so people can get on with the things that matter in life."
Nest will retain its brand name within Google. But the purchase keeps the hyped thermostat maker away from other potential suitors -- most notably Apple where Fadell helped conceive and design the first iPod in 2001. He left the company seven years later to found Nest, and many have since wondered when Apple would scoop it up. According to a report last month in The Information, Google was developing a high-tech thermostat of its own last year, implying that it was going to get into the home-automation business with or without Fadell.
A recent round of funding valued Nest at more than $2 billion, according to Recode's Kara Swisher, suggesting that Google paid top dollar to keep Nest to itself. Google Ventures, a venture capital arm of Google, invested in Nest in 2011 and again in 2012.
Related
Popular in the Community