Google just appointed a new CEO. And he's not like the brash, high-profile boy wunderkinds we've come to expect/dread in the tech world. Google's new chief executive, Sundar Pichai, is "humble," as one former colleague tells the Wall Street Journal. "He's very smart, very opinionated and very low-key."
You may not have realized this, since big-name CEOs and business "leaders" like Donald Trump still grab the headlines, but humble chief executives are all the rage at the moment. For this you can thank a financial crisis that crushed many arrogant executives who had put ego ahead of their businesses. Credit also goes to social media, which gleefully gobbles up every single gaffe uttered by a public figure. Someone without humility, who can't stomach a firestorm of criticism or admit when he or she is wrong, is no longer suited for the whip-fast feedback that Twitter and Facebook offer.
Chief executives who display humility are regarded more highly in the business world, according to a survey of 1,700 executives worldwide earlier this year. More than 50 articles mentioned "CEO humility" in 2014, the survey from public relations firm Weber Shandwick found. That's about twice the average number for each year over the past decade. Pichai has been described as "empathetic" and a "nice guy," two key traits for a humble CEO.

Pichai, a longtime Google executive, scored his promotion earlier this week when the tech giant announced it would completely restructure its business. A slimmed down Google will now be just one unit of a larger holding company named Alphabet. The new Google unit will encompass the core search business, YouTube, Android and Chrome. More experimental, less profitable ventures, like Google's foray into self-driving cars and smart thermostats, will function as separate businesses.
So, put another way, not only is the new Google CEO humble, so is the new Google -- having been split off from pie-in-the-sky ventures like Calico, the division of the company that's investigating how humans can live forever. That mission is perhaps one of the most arrogant tech goals of all time.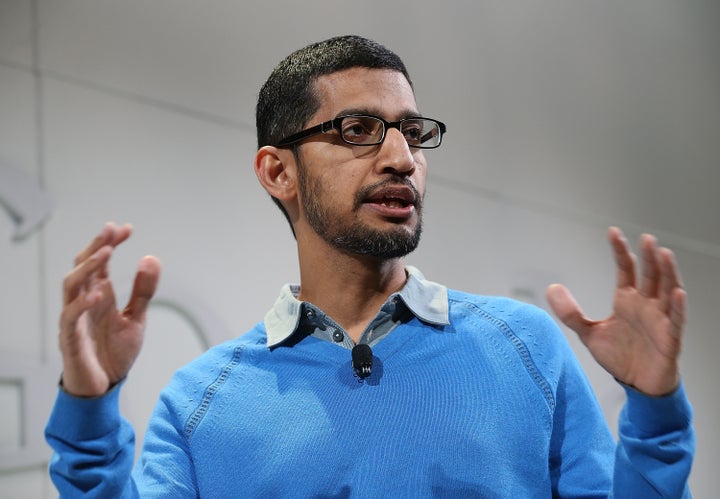 Pichai was born and raised in India, coming to the U.S. for graduate school at Stanford University and Wharton business school. The 43-year-old joins a small but growing group of Indian chief executives of U.S.-based companies -- a list that includes Microsoft Chief Executive Satya Nadella, another leader known for his humility. Both men worked their way up the ranks to get to the top.
Managers in India have just the kind of leadership style that's coming into vogue now in the U.S., according to a recent paper from researchers at Southern New Hampshire University. These leaders have a "paradoxical blend of genuine personal humility and intense professional will," the researchers wrote in the study, which was first picked up in the Wall Street Journal.
Other well-known Indian leaders include Pepsi CEO Indra Nooyi, Ivan Menezes of Diageo and Adobe CEO Shantanu Narayen, who's been described as a "soft-spoken visionary," who is quiet but incredibly competitive.
Of course, not all Indian leaders lead the same way, or employ this same style. And plenty of American leaders embody these traits, too. Apple Chief Executive Tim Cook is one of the more prominent examples: a self-aware leader who is concerned with others and quick to take responsibility when he screws up.
"Here's a guy who seems to stand up for what he thinks is right," Fred Kiel, a former chief executive who now runs a consulting firm focused on leadership, said recently of Cook. "He's also open to admitting mistakes."
Related
Popular in the Community