This has been a peculiar week in the world of genealogy, ushering in unexpected changes in three online, family history destinations. I'm not going to get into the modifications at Geni.com since I spend most of my time mining content-heavy (as opposed to tree-heavy) websites. Uploaded family trees are certainly worth consulting, but given the nature of my work, I have to do just about all of my research from scratch, so it's the other two -- Google News Archive and Footnote.com -- that captured my attention.
Several months ago, Google announced that its News Archive initiative would be halted. This was disappointing to genealogists since we love the one-stop-shopping it offers for a cross-section of newspapers covering 250 years. Fortunately, the 60 million pages scanned to date were to be left intact, so we all breathed a collective sigh of relief and kept on Googling.
But earlier this week, I did a search and got bounced back to the Google homepage. Thinking there was something quirky with my browser, I tried again with the same result. After some experimentation, I figured out that I could still access the News Archive findings, but with greater difficulty. Now it's necessary to search the News option and then click on "Archives" in the list of time frames that appears on the left-hand side. There was another back door, but it's stopped functioning just during the time I've been writing this article (which doesn't exactly give me a warm, fuzzy feeling).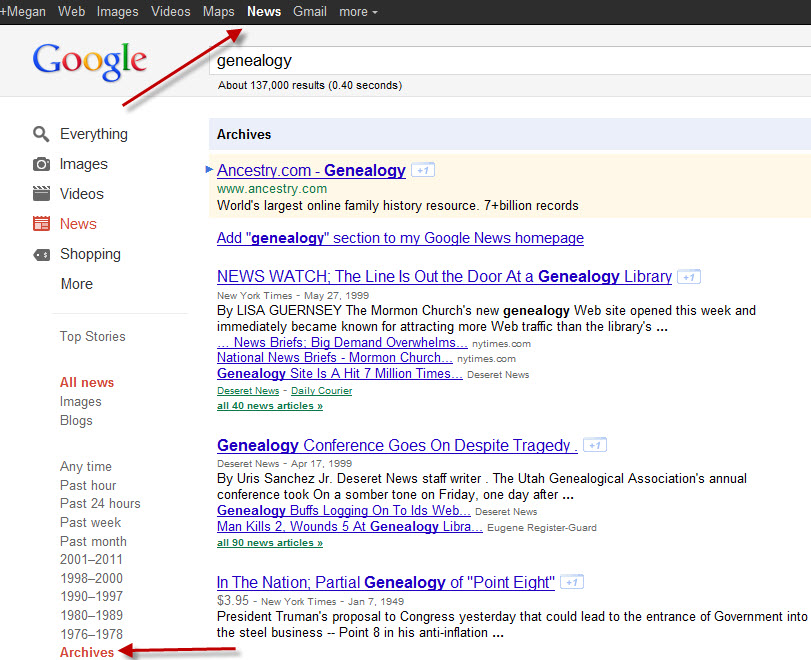 Footnote.com -- rechristened this week as Fold3.com -- is another website popular with genealogists. While it doesn't have as much content as its one-time competitor and now owner, Ancestry.com, we welcomed its eclectic mix of military, naturalization, and vital (birth, marriage, and death) records, as well as city directories and newspapers. But this week, the website changed not only its name, but also its focus. Henceforth, it will specialize in military records. And as with Google's News Archive, the other materials are still there, but are now harder to find.
So what's the big deal? Well, it worries me. Google News Archive is adding no new content, and Fold3.com will now only add military documents. The changes that were made to both this week were effected with no advance notice to users, and the net result is the same - greater search effort to access frozen content.
I don't want to be alarmist, but given the beneath-the-radar approach taken, my concern is that making this content harder to find is perhaps a first step toward eventually removing it. After all, hosting and serving up lots of digitized material isn't cheap. But as a genealogist who relishes in both resources (and pays a subscription for one and à la carte for the other), it would distress me to find myself with reduced options going forward -- a scenario that would amount to a turning back of the digital access clock. I wonder what my fellow genealogists think and would be delighted to be convinced that my concerns are entirely unfounded. Please prove me wrong!

Related
Popular in the Community