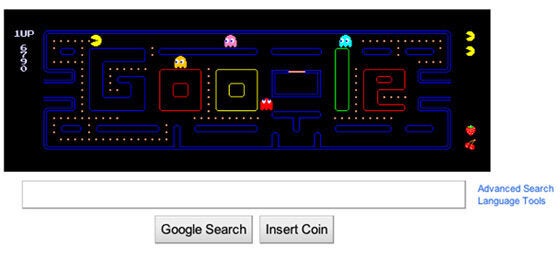 In honor of Pacman's 30th anniversary, Google gave its logo over to the iconic arcade game with the first ever playable Google Doodle.
The Pacman Google Doodle--which allowed up to two people to play Pacman on the Google homepage--was up on Google's homepage for around 48 hours (from Friday, May 21, to Sunday, May 23).
As soon as it went live, users raved about the creative Doodle--and bemoaned it as a total time sink.
"Time waster of the day!!!" tweeted one person. Another asked, "Could there BE a more epic (read: irresistable [sic]) time-drain?"
RescueTime's blog attempted to calculate the "tragic cost" of Pacman by figuring out just how many hours were lost to Google's playable Pacman logo.
RescueTime performed some back-of-the-envelope calculations (see their assumptions here), and estimated that Google's Pacman logo "consumed 4,819,352 hours of time."
That loss in productivity had a hefty pricetage.
Assuming the average Google user has a "business cost" of $25 per hour, RescueTime gauged that the cost of this time-sink was around $120 million. If the average Google user had the business cost of a Google employee, that figure skyrockets to $298,803,988.
For those who aren't discouraged by the stats, and miss playing Pacman on Google, here's how you can keep playing--even without the Google Doodle.
Related
Popular in the Community