Ads for payday lenders will no longer appear in Google search results, thanks to an update to Google's AdWords policy that the company announced Wednesday morning.
In a blog post, David Graff, Google's director of global product policy, said the company tries to screen out ads that might be harmful or misleading to consumers. "Ads for financial services are a particular area of vigilance," he wrote, "given how core they are to people's livelihood and well being."
It's a win for both consumer finance watchdogs and privacy advocates, who are worried about how Google uses the private information people type into their search box.
"The Internet should not be a place that profits from your weaknesses," Alvaro Bedoya, the executive director of the Center on Privacy & Technology at Georgetown Law, said in a statement. "If you're broke and search the Internet for help, you should not be hit with ads for payday lenders charging 1,000 percent interest."
Bedoya told reporters on a press call that he and other advocates hope Google's move will set an industry standard and inspire other search providers -- like Microsoft, which runs Bing, and Yahoo -- to follow.
Google has decided that ads for payday loans -- which it defines as loans with repayment due within 60 days of receiving the original money, or, in the U.S. specifically, loans with an APR of 36 percent or more -- no longer meet its criteria for acceptable ad content. They will no longer be allowed among Google's ad results after July 13. It won't affect ads for other kinds of loans, like for mortgages or cars.
This doesn't mean you won't be able to use Google to find payday loans. It just means that Google will no longer accept money for ads for these services. Payday lenders may still come up in Google's organic search results, which are determined by an algorithm. But you won't see them in the ads that appear at the top of the page.
This is a search I did Wednesday on Google, which shows both an ad for a payday loan site and an organic result for one.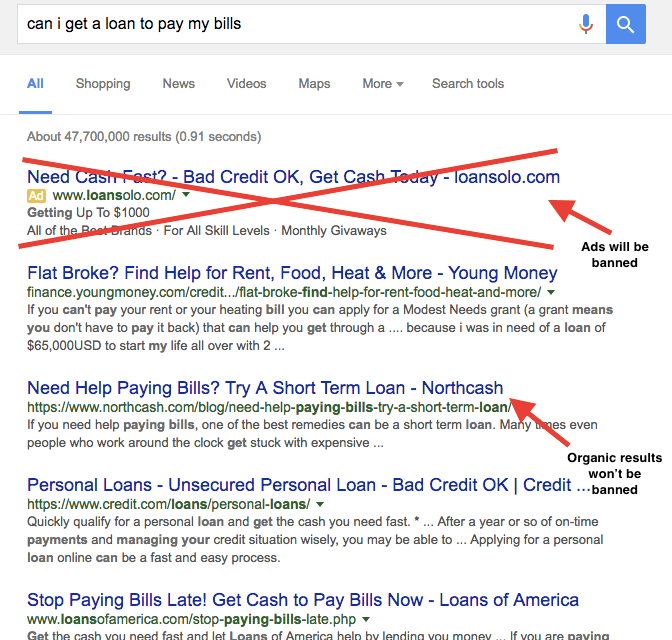 Google already prohibits a range of content from its AdWords system, including ads for counterfeit goods, dangerous products like drugs and guns and anything that would enable "dishonest behavior," such as hacking services. It also prohibits offensive content like ads from hate groups and ads that show violence.
Payday lenders themselves have more or less acknowledged that the industry is set up so as to send borrowers into a perpetual debt spiral. A leaked email from an industry representative to a supportive academic obtained by The Huffington Post last November said that "in practice, consumers mostly either roll over or default; very few actually repay their loans in cash on the due date."