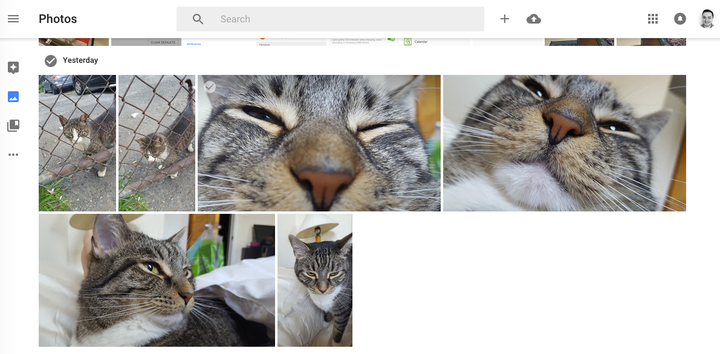 Google Photos is so good at storing your pictures online, you might not even realize it's doing it.
David Arnott of Upstart Business Journal discovered last week that his photographs were still being synced to Google's servers after he uninstalled the Google Photos app from his Android smartphone. The problem does not appear to exist on iPhones.
"There they were, hundreds of photos I'd taken of my wife, my daughter, and me, grouped together by Google's facial-recognition technology in the company's Photos app, all snapped over the course of a little more than a month," Arnott wrote. "The problem was, I'd deleted all of those pictures."
Solving the problem is pretty easy: You can reinstall the app and disable the "back up and sync" option, then clear out any photos that it uploaded without you realizing. To do that, click the "hamburger" menu button on the upper left, then select "Settings" and tap "Back up & sync," as shown below:


 Of course, that becomes a little trickier the longer you go without realizing it's syncing your photos -- if you've stored up months or years of photographs, that's simply a larger number of images you have to manually delete, though Google Photos makes it pretty easy to select a large number at one time.
The back-up feature exists for some pretty good reasons. It seamlessly puts your images online so you don't have to worry about clogging up your phone's storage, and it makes those images searchable with logical keywords. You can simply type "black cat" and it will show you any photos you've taken of black cats. Eventually, you will be able to manually label individuals and search for, say, "Sarah smiling."
Anil Sabharwal, lead product manager of Google Photos, assured The Huffington Post in an interview last month that photos are kept private and secure. But the notion that photos will continue to be uploaded even after a user uninstalls the app naturally might make some people nervous -- imagine getting rid of the app because you were suddenly uncomfortable with the idea of having your baby's pictures anywhere on the Internet, only to realize years later that images of his first birthday had been kept on Google's servers the whole time. Because Google Photos will also store screenshots, you can imagine some unsavory or particularly private things sitting around on Google's servers.
HuffPost confirmed that the Android version of Google Photos works as Arnott reported. If you've set it to "back up and sync" your photos -- which is the primary reason most would use the app to begin with -- it will continue to back up your photos even after you uninstall the app. A support page for Google Photos suggests that the only way to change this setting is within the app itself, even though a desktop version of Google Photos exists. TechCrunch noted that Android users can toggle the backup option in their Google Settings, a separate app that may be buried in a folder on one's device.
In a statement to HuffPost, a spokeswoman for Google said that the company plans to make all of this clearer for people moving forward.
"This is something we are committed to resolving. We are working to make the messaging clearer as well as provide users who uninstall the Photos app an easy way to also disable backup," the spokeswoman said.
She added that the photo backup is actually an Android service that Google Photos is able to activate, which is why your smartphone continues to sync with Google's servers after you uninstall the app. In other words, Google Photos is enabling a general function on your device that stores your pictures online regardless of the app being on your phone.
That Google continues to collect your photographs -- really just another kind of data -- after you uninstall the app shouldn't come as much of a surprise. The company stores a lot of information from its users when they opt into different services. Visit your privacy dashboard on Google to see what it has on you. There's the expected stuff, like any Android devices you've set up or thousands upon thousands of Gmail exchanges, but there are some weirder bits, too: Audio recordings from any time you've used voice search functions on your phone or Android Wear smartwatch, for example.
It's a pretty good rule of thumb to operate under the assumption that if you use a Google service -- or a Facebook service, or any number of others -- it might store your data in ways that aren't completely obvious. At the risk of sounding too obvious, don't ever put something online that you don't want to have online. Make sure you have two-factor authentication enabled to reduce the risk that someone could access any of the data that a company like Google is storing on your behalf.
And if you opt in to a service, figure out how you can cancel that service before you dump your data onto it -- apparently, deleting an app isn't always enough.
This article has been updated to include a statement from Google.
Calling all HuffPost superfans!
Sign up for membership to become a founding member and help shape HuffPost's next chapter