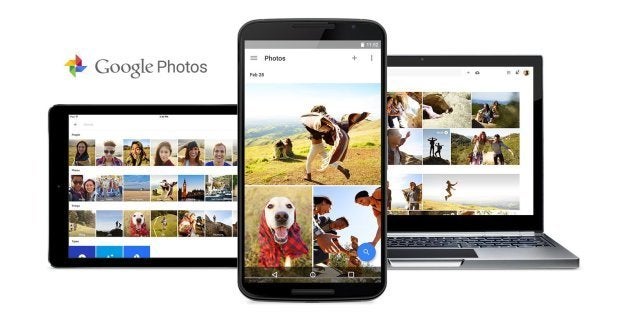 Google announced Thursday that its new image service, Google Photos, is rolling out immediately for Android, iOS and desktop users.
The news came during a keynote presentation at the tech giant's I/O 2015 conference in San Francisco. It was just one of many, many announcements the company made during the talk -- which ran over two hours -- but Google Photos is probably the only new product that most people can expect to get their hands on today. The app will essentially replace the photo service on the struggling Google+ platform.
Google Photos will automatically catalog photographs you take on your smartphone, and offers unlimited storage for photos -- as long as they're 16 megapixels or under. (The Wall Street Journal reported that photos will be resized if they're too big, unless a user opts into an "original" option, which may require a fee for additional storage space from Google.)
Google is perhaps best known for its search engine, and it's bringing that functionality to Photos. You'll be able to search your library for terms like "snowstorm in Toronto," and it'll identify pictures that match:
The app also allows you to move through time by pinching and swiping on your phone or tablet:
It has a bevy of other standard features, too, like sharing, photo enhancements and quick organization. Click here for a full rundown.
Google promised during the keynote that the service is "private and safe." Of course, it can only be as secure as the device that the app runs on, so if you plan to upload your photographs automatically, you'll want to make sure your devices have strong passwords and so forth. (Especially if you unthinkingly have Google Photos back up a photo that is really "private.")
While Google Photos seems pretty modern -- futuristic, even -- it should be noted that it's not exactly groundbreaking. Facebook already lets you look up tagged photos with its search bar -- you could type in "photos of me from 2009" right now and see exactly that. And Google's announcement touted Photos' ability to automatically recognize your face in photos -- something Facebook can do as well.
The service is not even all that new for Google itself. In 2004, the company acquired Picasa, a photo management program with a keyword organization system not dissimilar to that of Photos. A few years later, Google announced that Picasa would get facial recognition features. After that, Picasa was essentially folded into Google+ Photos, much like that platform is now basically being subsumed by Google Photos.
Similarly, Google Translate gobbled up Word Lens, another Google acquisition, earlier this year.
Curious about Google Photos? You can try it for yourself starting Thursday, though it seems to be rolling out to users gradually. If you don't have access yet, check again later.