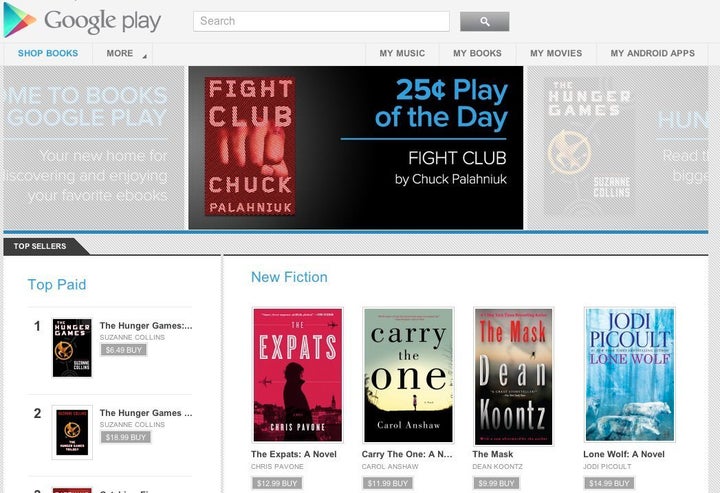 Google has launched a new entertainment service with amazing deals on high-profile ebooks and music - deals that Amazon has quietly matched.
Google Play is a single online store selling movies, Android apps, music and ebooks. Bringing together a series of pre-existing online stores, the service launched yesterday by announcing a week of 25 cent deals on big-name music, book and movie titles, many of which, including those on ebook editions of "Extremely Loud and Incredibly Close" and "Fight Club", have been matched by Amazon.
Amazon hasn't been making a big show of their price matching. At the time of writing, the deals hadn't been mentioned on the Kindle Blog, nor had they been featured on the Kindle eBooks homepage, or mentioned in Amazon's Kindle Daily Deal section.
But they obviously hadn't gone unnoticed: as of 5pm EST today, the 25 cent edition of "Extremely Loud and Incredibly Close" was being listed by Amazon as the number-one paid book on the Kindle.
Mike Shatzkin, Founder & CEO of publishing consultancy The Idea Logical Company told The Huffington Post that he thought the price matching was a sensible move.
"Amazon has such a huge investment in being branded as the low price provider to the customer that they don't want to let anybody steal that mantle from them. I think that's just built into their DNA," he says.
Neither Google nor Amazon have released figures relating to the number of users of their ebook platforms, but it would take a significant industry shift for Amazon to be toppled from its position as the leading player in the marketplace.
"Nothing would cheer me more than to see Google get really good at competing with Amazon," says Mike Shatzkin. "The industry desperately needs it. But I'm not going to hold my breath."
Google Play's 25 cent deals will run until the end of this week. At the time of writing, neither Google nor Amazon had responded to requests for comment.
Calling all HuffPost superfans!
Sign up for membership to become a founding member and help shape HuffPost's next chapter
BEFORE YOU GO