 "You know that feeling you get when a piece of art takes your breath away, or when a friend stops by with unexpected gifts?"
That's what Google wants sharing on Google+ to feel like, and to that end, the search giant has announced a huge redesign of its struggling social network. In a blog post on Google's official blogspot, Google Senior Vice President Vic Gundotra laid out the bold redesign, which emphasizes larger photos and videos in the sharing stream and features a new customizable ribbon with all of the different Google+ sections that runs up and down the left side of the screen.
The Google+ team put together a YouTube video showcasing the new design, which Gundotra hopes you'll find "simpler [and] more beautiful":
In the face of sluggish daily adoption, Google seems committed to its still-nascent social network. Google has added several features that integrate a Google+ "Share" button across its many sites, and Google Reader and Gmail have both received redesigns in order to accomodate Google+ functionality. That has pleased the dedicated users of Google+ (of which there are, in fact, quite a few), though its changes have not yet attracted the worldwide, ever-returning users that Facebook and Twitter currently enjoy.
Will this slick new look for Google+ change things? Or will it take something else -- for example, the long-rumored Google+ app marketplace -- to turn the tide in Google's favor? Below, check out some more screenshots of the newly redesigned Google+. The changes should be showing up on your own Google+ profile soon; and hey, while you're there, why not add HuffPost Tech (and me!) to your circles?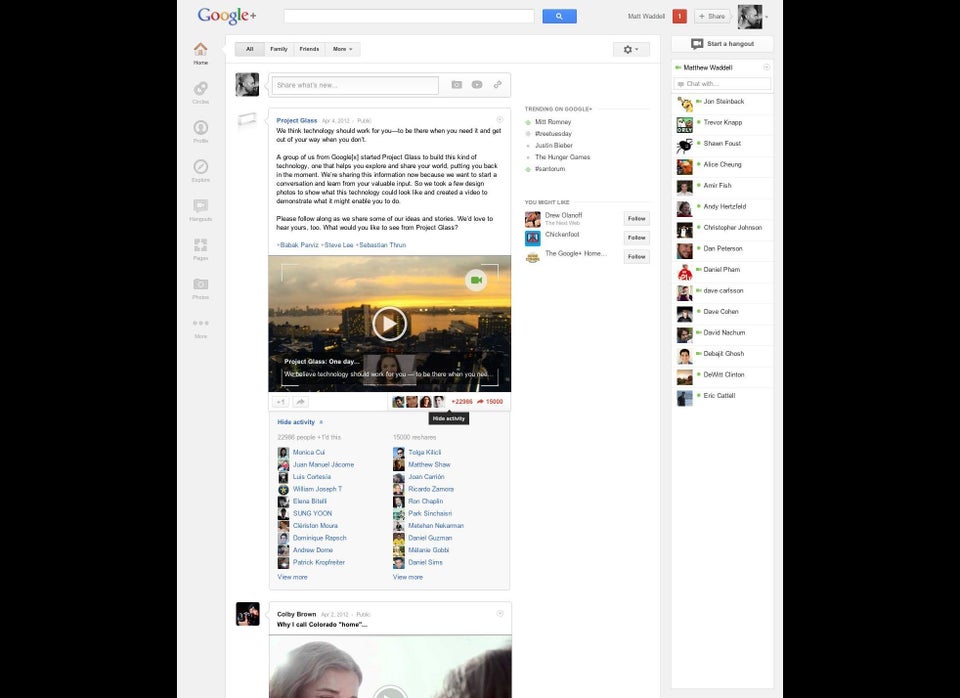 The New Google+ Design
Popular in the Community