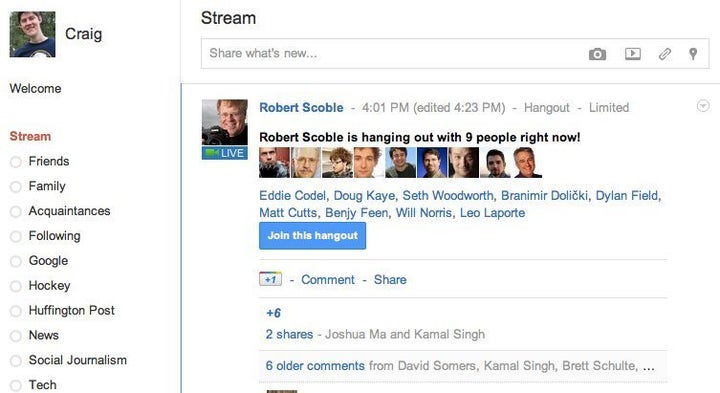 It's set up in a way that the average Internet user can immediately pick up on. It's built on social circles, a familiar concept in real-life, so why not translate that to the Web?
A few minutes set aside to toy around with the service turned into hours, as I eagerly set up my circles and interests, and began interacting with the stream of content tailored to my interests.
One thing was clear early: It was clicky and addicting. I could +1 this, comment on that and share as I pleased. And it was no ghost town, even at this early stage. People were interacting back (among them Google employees; nice to see them so engaged). Not long after, "hangouts" began popping up, video chats that allowed me to meet new people with similar interests.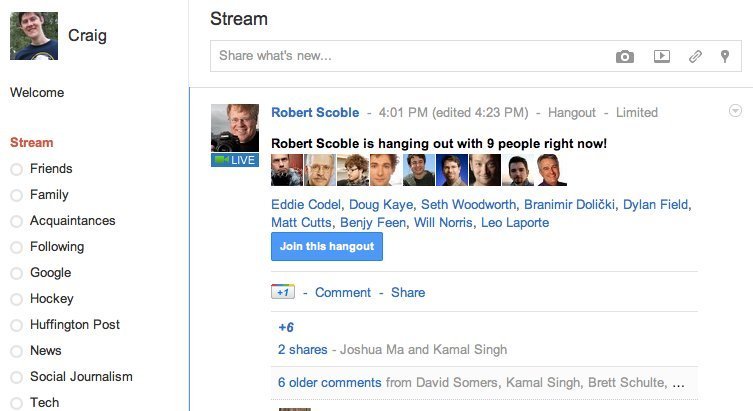 Then there were the notifications. Email notifications and the brilliant universal nav bar kept pulling me back into the service. Even when I left Google+, there was a constant, stark reminder in the form of a black bar at the top of google.com and my personal Gmail account -- with red notification bubbles popping up. This is to say nothing of the slick mobile interface that welcomed me back on my phone. It all made me want to keep using Google+ (like MG Siegler experienced).


The nav bar that makes me want to keep using Google+
Loaded with features, heavily personalized and constantly pulling you back, there's no doubt Project Google+ is both ambitious and attractive, almost certainly Google's best social work yet. But is the timing right?
Timing is everything on the Web. It's whoever gets there first, but also whoever is best and can keep a user base happy at critical times.
The Web is also a place you can't rest, or you risk falling behind on the times. To keep up with the whirlwind Web, a place you can be on top of the world one moment and an afterthought the next, constant innovation and iterations are necessary. And kudos to Google on that front... Google has been secretly hard at work on Google+ for some time now and pledges to keep iterating.
Timing, however, is the key question. If the time is right, Google -- once unleashing Plus publicly to the entire Internet -- may have finally struck social gold after attempts like Buzz and Wave gained globs of attention before fizzling out.
Facebook launched at precisely the right time and began acquiring users from Friendster and MySpace before pulling ahead of those services altogether. And the 24/7 information-obsessed Web world was hungry for a service like Twitter when it launched.
Is the time right for Google+? It could be. Or, it might just be too late. Facebook, Twitter and Tumblr already have significant head starts in the social space. Google's past attempts like Buzz failed as they never got the brand recognition akin to these types of services.
It could also be too early, believe it or not, should social media powerhouses eventually take a wrong turn and Google+ stumbles out of the gate. If Google+ doesn't immediately grow quickly, it could gain the reputation of a failed experiment and never ignite another spark years down the road.
Regardless how this turns out, as an early user of Wave and Buzz before moving on myself, the first returns of Google+ have been impressive. Google has built an engaging, intuitive and well-designed experience. And again, that's before the firehouse was turned on and the whole Web joined. So there's that.
Wave had an ooh, aah somewhat magical feel at launch. Buzz prompted intrigue with its integration with Gmail. But Google+ has a bit of both, plus a greater emphasis on personalized news through Sparks, features you won't get on Facebook like video chat, and a seamless integration with so many other Google products like YouTube. And privacy considerations seem to have been weighed closely. With Circles, and since you are unable to see others' Circles, it just feels safe.
However Google+ fares, we should know soon. The people of the Internet will be the judge, once it's open to all. And the Internet citizen tends to make decisions quickly, wasting no time to crown a champion or declare a dud. If it's dubbed a winner, we'll know quickly: word of mouth, blogs, comments, tweets and Facebook posts will fuel exponential growth.
Thumbs up to Google on this latest product. Look forward to the floodgates opening and seeing if this project stands the test of time.
Related
Popular in the Community