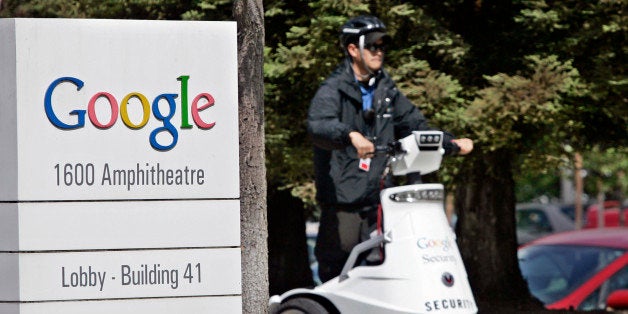 A little more than a year after unionized guards protested low wages outside Google's headquarters in Mountain View, Calif., the company is attempting to make its security jobs a bit more secure.
Google said Thursday it is dropping the outside contractor Security Industry Specialists and would rely solely on in-house security personnel by the beginning of next month. The contractor's low wages and scarce working hours had made the plight of its workers a poster-child of income inequality in Silicon Valley.
"Building an in-house security team is something we are excited to do," a Google spokeswoman said in a statement sent to The Huffington Post on Friday. "A year ago we in-sourced the Google security operations center and we are looking forward to making these valued positions both full- and part-time Google employees."
Google's new security team will have access to the same benefits as the rest of its employees, though it remains unclear if they will be offered to both full- and part-time guards. Google did not respond to questions about how much of the team would be full time.
According to USA Today, many janitors, security guards and bus drivers in Silicon Valley are employed by contractors. This practice, which lowers costs for the tech companies, ends up hurting wages, benefits and safety conditions for the workers doing such jobs.
Loren Diers, a spokesman for Security Industry Specialists, did not immediately return a call requesting comment.
The company's deal with Security Industry Specialists had been in the spotlight for some time -- most prominently last year, when security guards picketed outside Google headquarters to protest the disparity between employees at the tech behemoth and the contractors who protect them.
Employees at the Los Angeles-based contractor complained last year of erratic shifts and $16-an-hour wages. Manny Cardenas, a security guard stationed at Google, told NPR at the time that he was rarely scheduled for more than 30 hours per week, netting only $1,400 on a good month.
He received no benefits, unlike the lavish benefits -- free laundry service, for instance -- allotted to the Google employees he protected.
"You feel like you're different," he said in an interview on NPR's Morning Edition. "Even though you're working in the same place, you're still an outsider."
Calling all HuffPost superfans!
Sign up for membership to become a founding member and help shape HuffPost's next chapter