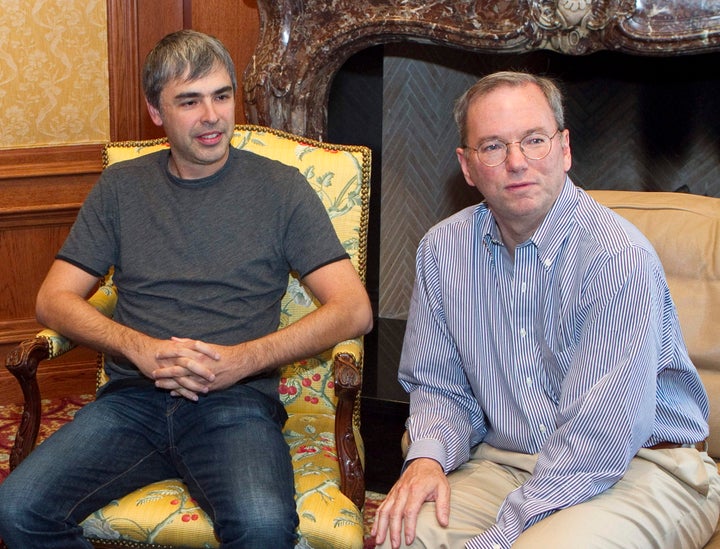 Google CEO Larry Page and Chairman Eric Schmidt could be subpoenaed by the Senate to appear at a hearing regarding its search dominance, following their refusal to do so.
Google is scheduled to appear before the antitrust committee in a probe of its power in the search engine market. But according to Politico, despite a letter from two senators that suggested both Schmidt and Page could be subpoenaed if they did not agree to testify, the two executives declined the request.
"Google is the preeminent provider of Internet search, and a hearing on this important topic would be incomplete without the direct perspective and views from one of Google's top executives, each of whom has played a prominent role at the company throughout the last decade," Senators Herb Kohl and Mike Lee wrote in a June 10 letter. "We would very much prefer to work this out by agreement rather than needing to resort to more formal procedures."
The likely "procedures" may involve subpoenaing Schmidt and Page. Acquiring the subpoena requires a majority vote of the full Judiciary Committee, which would publicly debate whether or not the two executives should be made to testify.
Google has offered to send Chief Legal Officer David Drummond to the stand, but the senators were not satisfied with the suggestion.
"We strongly prefer to have [Page or Schmidt] as the witness representing Google at the hearing, which will address fundamental questions of business operations rather than merely legal issues," the letter said.
According to Bloomberg, a Google spokesperson said that the company plans to "send them the executive who can best answer their questions."
Still, Senator Lee remains unhappy with having Drummond rather than Page or Schmidt at the hearing. "I'm very disappointed in Google's response to the request to have Larry Page or Eric Schmidt testify at our subcommittee hearing," he said in an email to Bloomberg. "I'm committed to work with Senator Kohl and others on the committee to ensure we have the opportunity to investigate these issues thoroughly and receive adequate responses from Google."
A spokesperson for Senator Kohl added that he "feels it's imperative that Mr. Schmidt or Mr. Page participate and is hopeful their attendance can be confirmed soon."
The senate isn't the only one with its sights on Google. According to the Wall Street Journal, the Federal Trade Commission will soon serve Google with subpoenas as part of an antitrust investigation into whether Google has unfairly used its power over the search market. The WSJ called the probe Google's "most serious to date in the U.S.."
Popular in the Community