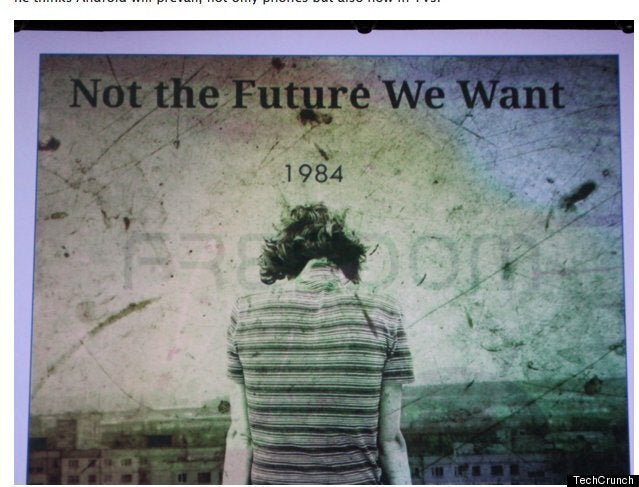 What's notable is not only what Google introduced--but how they introduced it.
Google I/O attendees, like Danny Sullivan of Search Engine Land or Erick Schonfeld of TechCrunch, were struck by Google's repeated, open criticism of Apple during a keynote presentation.
Sullivan tweeted, "Wow, yet another slam at Apple during Google I/O keynote."
He noted in his live blog during the event that Google's VP of engineering Vic Gundotra seemed to take a "slam at Apple," when Vic explained, "We're not working with a handful of partners and charging them a million dollars to work with them."
TechCrunch explains how Google's Vic Gundotra, VP of engineering, "repeatedly ripped into Apple:"
The interesting part is where he goes after Apple in a not too subtle way. He extols the virtues of an open platform and contrasts it with a "Draconian future, a future where one man, one company, one device, one carrier would be our only choice." Then he shows a poster of 1984, with the title, "Not The Future We Want." The reference is to Apple and the iPhone. Gundotra uses Apple's own iconic 1984 imagery against it to great effect right at about 3 minutes into the video clip.
Apple Insider notes that Google's 1984 reference likened Apple to "Big Brother," adding that Gundotra "suggested that Google's entrance into the mobile phone market was a move meant to directly oppose the likes of Apple and its tightly controlled iPhone platform."
"If you believe in openness, if you believe in choice, if you believe in innovation from everyone, then welcome to Android," Gundotra told Google I/O audiences, positioning Google's Froyo operating system as the direct, more open rival to the iPhone's OS.
Watch Gundotra's presentation--and the digs at Apple--in the video below (it starts around the 3:30 mark).
Related
Popular in the Community