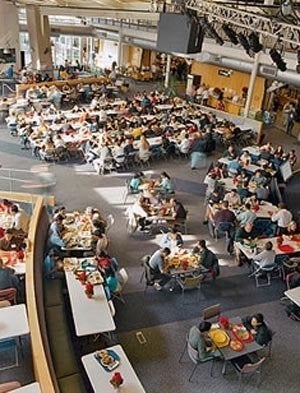 Sick of hearing about the great, free, food at Google? Skip this post. Want to know how much it costs Google to pay for all that grub? Read on.
Here's the math: Googlers in the U.S. get two meals a day free, according to the jobs page, but people we talk to at the Mountain View Googleplex tell us employees there are often chowing down three times a day. Google is open 251 days a year. So let's say that Google is providing about 600 meals per year, per employee.
By its own count, Google has about 8,000 workers at the Googleplex in Mountain View, and another 700 at the office on Ninth Ave. in New York City. Buying DoubleClick netted Google 900 more U.S. employees (after laying off 300). So that's a total of about 9,600 employees in Mountain View, New York, and from DoubleClick.
The rest of Google's American employees get fed, but Google doesn't break down employment for its other offices. Internationally, benefits vary -- employees in Australia get a free lunch, whereas employees in Ireland get a fully subsidized canteen.
Popular in the Community