Stephen Colbert launched into a tirade against Google CEO Larry Page last Wednesday on the "The Colbert Report." Why? The company listed Colbert's height as 5'10" in his Google Search results, instead of the comedian's self-proclaimed 5'11".
"Larry, I demand a retraction, an investigation, an apology and a substantial cash settlement or I will see your ass in court," Colbert said.
Page hasn't responded, but Google did take action. Now when you search for Stephen Colbert's height on Google you'll find he's listed as 5'10.5" (1.79m -ish).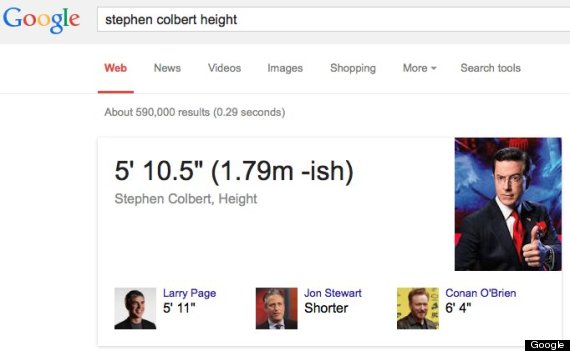 Google only gave him a half-an-inch.
As you can see above, he's also now compared to Page himself, who happens to be 5'11", and Jon Stewart, who is simply listed as "shorter."