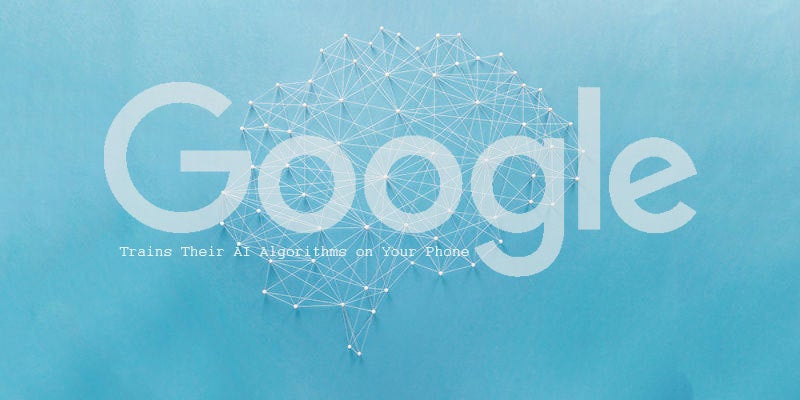 Large tech corporations gather information about how you use their software in order to improve it by using machine learning. They collect the information into one database, filter it and then use it. Most often the end result is in favor for the user's, but this means that their privacy might be in jeopardy.
A new methodology with user's privacy in mind.
However, the process of gathering feedback from their visitors is time-consuming and results in a variety of issues. This also means that your private information would be stored on their servers, meaning that it can be sold to third-party companies such as pharmaceutical giants. That's why Google have decided to create a new method called Federated Learning.
Until now, the collected information was stored on a single server. The Federated Learning takes a different approach by decentralizing the system. Instead of taking the information and then use it to teach their algorithms, now the whole training process happens directly on your device. This means that your phone's CPU is used to train the artificial intelligence employed by Google.
The process is incredibly simplified now. Your device downloads the current model and improves it by using the data of your phone. Then it summarizes it in the form of a small update that get's fully encrypted. After that, the update is sent through secured channels, and those updates are used to improve the main model for all users.
More secure and beneficial process.
The first application, which uses this new method is the keyboard app - Gboard. The app provides you suggestions based on your messages. After the update, it will be able to remember, which recommendations were entirely omitted. This would allow the application to personalize for an improved user's experience. Google uses the feedback to update the app so that it can suit every user.
According to the company, this methodology is more private, and it delivers results at the very moment. Now, users must not wait for a new update to enjoy the personalization of their favorite application. The system is straightforward, and it will not decrease your battery's life, neither it will affect the performance of the device. The process takes place only when your phone has a wireless connection and is plugged in.
Their main aim is to continue extracting valuable information without interfering with the device's performance. All of this while ensuring all user's privacy.
Not long ago, Apple had the same idea with their new learning model known as "differential privacy," which has the same aims. These methods are necessary as companies require this information, while users demand their privacy.
Federated Learning requires lots of resources from the large corporations that employ them. However, the benefits are much more than the drawback, which makes the efforts against the technical challenges worthwhile. Currently, this methodology is only at the beginning of its capabilities and there's a lot more hidden underneath it. The idea of Google is to expand the scope of opportunities provided by the Federated Learning, as it is something that could solve all machine learning problems.
Calling all HuffPost superfans!
Sign up for membership to become a founding member and help shape HuffPost's next chapter
This post was published on the now-closed HuffPost Contributor platform. Contributors control their own work and posted freely to our site. If you need to flag this entry as abusive,
send us an email
.