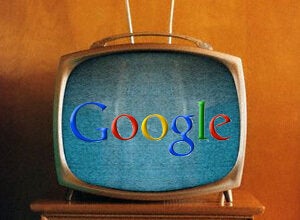 Google has partnered with companies including Sony and Intel to create a new TV platform, called Google TV, according to the New York Times.
Google TV would be an Android-powered Internet platform aimed at improving web browsing on TV sets, allowing users to navigate sites with the flick of the remote. The mobile app market has already exploded--it's estimated it will $17.5 billion by 2012--and it seems apps tailored to televisions could be next. Google TV's Android platform would likely allow users to run apps on their sets, meaning developers would be challenged with creating a new suite of TV applications.
The New York Times describes the Google TV project:
Some existing televisions and set-top boxes offer access to Web content, but the choice of sites is limited. Google intends to open its TV platform, which is based on its Android operating system for smartphones, to software developers. The company hopes the move will spur the same outpouring of creativity that consumers have seen in applications for cellphones.
Google TV highlights Google's aspirations to move far beyond the web. The company entered the mobile handset market with its Nexus One phone earlier this year; has plans to build an ultra-fast broadband network; and received permission to buy and sell energy in February 2010.
'Google wants to be everywhere the Internet is so they can put ads there,' an insider source told the New York Times.
Google's forays beyond search have increased rivalries between the company and Apple--Steve Jobs reportedly warned Apple employees that 'teams at Google want to kill us'--and TechCrunch notes that Google TV is likely to put pressure on Apple to improve Apple TV, long criticized as one of the company's weaker products.
Apple needs to 'push Apple TV beyond a hobby,' writes TechCrunch:
The formerly close allies are increasingly competing in key spaces for both, and the living room is likely to be a new battleground because it's still very much up in air. As the New York Times reported yesterday, Google is working with partners including Intel, Sony, and Logitech to bring a Google TV experience into the living room. This is, of course, where the Apple TV resides. And Apple would be foolish to simply cede any ground it does have to its new favorite rival just because it's focused on other things (*cough* iPad *cough*). That's a Microsoft move.
Related
Popular in the Community