Twitter CEO Jack Dorsey and Facebook COO Sheryl Sandberg appeared at a Senate Intelligence Committee hearing on Wednesday to answer questions about foreign interference on their platforms aimed at disrupting U.S. politics.
Notably absent from the hearing: anyone from Google or its parent company, Alphabet.
While the committee invited either Google CEO Sundar Pichai or Alphabet's Larry Page to testify, the company declined to send either of its top executives. Senators didn't take the slight lightly, and set out a "Google" name placard in front of a conspicuously empty chair alongside Dorsey and Sandberg: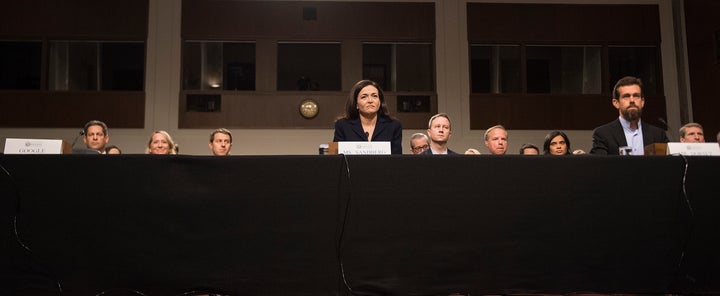 "I'm disappointed Google decided against sending the right senior level executive," committee Chairman Richard Burr (R-N.C.) said in his opening remarks.
Vice Chairman Mark Warner (D-V.A.) echoed that sentiment.
"I'm deeply disappointed that Google ― one of the most influential digital platforms in the world ― chose not to send its own top corporate leadership to engage this committee," he said.
The company had said it would designate its senior vice president of global affair, Kent Walker, to attend the hearing (he's appeared previously before the panel). But that offer was rebuffed, as the committee sought to hear from higher-ranking executives.
In a statement to HuffPost, Google said it's been diligent in briefing lawmakers on the political interference issue in the past.
 "Over the last 18 months we've met with dozens of Committee Members and briefed major Congressional Committees numerous times on our work to prevent foreign interference in US elections," a Google spokesperson said in an email.
The statement reiterated that Google had made Walker available and that the company "had understood that he would be an appropriate witness for this hearing."
Calling all HuffPost superfans!
Sign up for membership to become a founding member and help shape HuffPost's next chapter