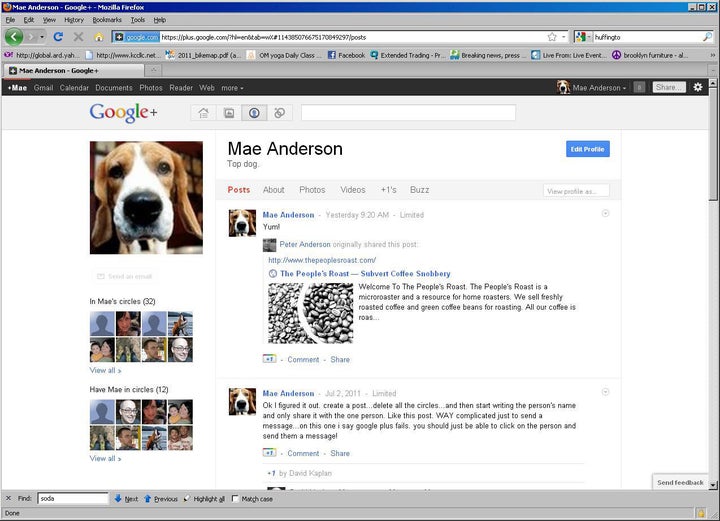 There's a hot new social media contender in town: She's just shy of three months old and already boasts more than 25 million users -- the fastest growing platform of her kind. She possesses all of the bells and whistles of her competitors, plus a few cool surprises of her own.
Still in beta, Google Plus (or G+ for short) is the search engine giant's latest attempt at social networking dominance (and the successor to its similarly-veined -- but failed -- ventures, Google Wave and Google Buzz).
Seeking to improve upon the Facebook model, G+ has already created quite a stir in the tech world, but critics argue that its chances for long-term success still remain to be seen.
So what exactly does G+ have that Facebook doesn't? Is it worth the switch? Let's break down the pros and cons:
What's more, if you want to watch the latest funny cat video with nine of your closest friends, now you can, thanks to G+ Hangout's recent integration with YouTube. You can choose your desired video on YouTube, click "Share," and then "Start a Google+ Hangout." Instant party!
You love your parents but you're sick of them stalking you on Facebook. G+ has got your solution: an innovative feature that allows you to organize your contacts into separate groups or "circles" (i.e. "Family," "Work Friends," or "Music Buddies") and pick and choose what those circles can view.
For example, if you'd rather Mom not know what shenanigans you were up to last night, no worries -- just limit your status update to your "Friends" circle only.
Circles also let you filter your "stream" (the G+ version of Facebook's News Feed). Done with work for the day? Simply click over from your "Work" stream to your "Friends" stream, and you'll only see updates from friends.
G+ also recently added a "Suggested Users" feature that enables you to add famous folks (or strangers) to your circles. Similar to Twitter, users are grouped into categories (e.g., "Entertainment," "Fun & Interesting," and "Politics"), and you can browse for people of interest. Plus, you can see updates from your favorite celebrities or bloggers -- even if they're not technically your real-life friends. (So, yes, you can take your Ryan Reynolds-stalkerdom to an entirely new level.)

3. Instant Uploads
Got some great vacation photos or videos you'd love to share, but dreading the task of having to upload them all yourself? No problem! G+ will do it for you (provided you have an Android phone).
Just snap the pic of your choice, and it will automatically be posted to a private online album. From there, you can share it with whomever you choose with just one click.
Three months into the launch of its beta, G+ still operates on an invite-only basis. So, despite its initial buzz, there's been a noticeable decline of late in the number of visits to the fledgling site. And many critics believe it's due to the limited access G+ has imposed.
Social networks thrive on interaction, they argue, and until G+ makes itself available to all, it risks alienating a lot of potential users, who will quickly lose interest in whatever it has to offer.
G+ requires proper names for its Google Profiles, asserting that it is an "identity service" which relies on truthful information from its users that will help it build future products. Pseudonyms are forbidden and make the user subject to account suspension, a policy that many oppose. What about users with uncommon names, or those who simply prefer using pseudonyms for security or privacy reasons?
Blogger Violet Blue learned this lesson the hard way: even though she had previously given two tech talks at the Google headquarters, her G+ account was suspended because her real name was not real enough.
3. Facebook is on to the G+ Game
Feeling pressure from the success of G+, Facebook has implemented a number of privacy changes in recent weeks that it hopes will help keep its users loyal.
Dig the G+ circles feature? Facebook just rolled out its improved "Friend Lists," which allow you to control who sees what you post.
Like being able to read updates from people you're interested in who aren't your friends (à la G+ and Twitter)? Introducing the Facebook "Subscribe" button, which lets you keep up with personalities you admire. And as the battle for social network supremacy rages on, we can expect Facebook to continue to step up its competition

What do you think? Have you tried G+? Is it worth the switch, or are you a Facebook fan forever?
As The Daily Muse's Head of Social Media, Susan gains great joy from concocting clever Tweets and Facebook posts and brainstorming catchy headlines. A native Philadelphian and Penn State alum, she has a resourceful background in communications and graphic design. Susan was married in Vegas by Elvis, proudly sporting a $49.99 white cocktail dress from Tar-zhay. She also has yet to meet a plate of nachos she hasn't liked. Follow her on twitter @shmayes
Related
Popular in the Community