NEW YORK ― Google employees around the globe staged a walkout Thursday to protest the tech giant's handling of sexual harassment, prompted by a bombshell New York Times report last week that Google quietly offered several high-profile executives lucrative exit packages after they were accused of sexual misconduct.
The action, floated last weekend on an internal message board by a group of female engineers, grew past its 200 organizers and became a massive worldwide event in just a handful of days.
Google CEO Sundar Pichai acknowledged the discontent in an email to employees Tuesday, pledging the company would take a "much harder line on inappropriate behavior."
That "inappropriate behavior" is a reference to Android creator Andy Rubin, who the Times revealed was quietly given a $90 million golden parachute after the company discovered he allegedly coerced a woman into performing oral sex at a hotel in 2013. (Rubin disputes the claim.)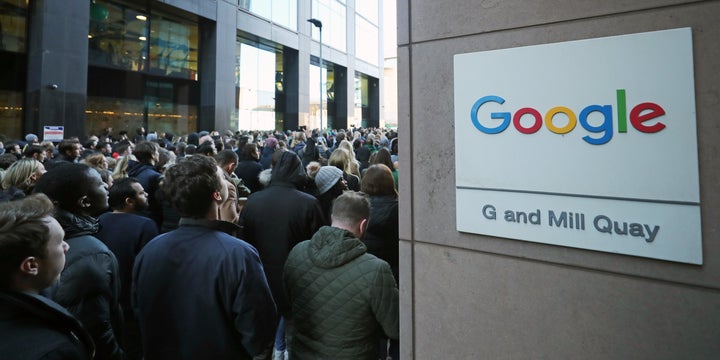 The company gave three executives similarly cushy treatment, even though it did not have any legal obligation to do so, the Times found.
"Over the past two years, we have terminated 48 people, including 13 senior managers and above for sexual harassment," Pichai noted in his email. "None of these people received an exit package. And to clarify: in that time, we have also not provided any exit packages to executives who departed voluntarily in the course of a sexual harassment investigation."
Event organizers published a list of five demands for protesters to coalesce around, including pay equity, greater transparency at several levels in Google and an end to forced arbitration agreements.
Protesters at the walkout in New York City hoisted signs calling out sexual misconduct and gender inequity in tech, with at least a couple of pointed references to Rubin's payout.
"Happy to quit for $90 million," read one woman's sign. "No sexual harassment required!"
Kelly Moran, a 31-year-old who works in a startup incubator at Google called Area 120, said she joined the walkout out of respect for women in the past who were subjected to harassment.
"I've been thinking about what it's like to be the women who experienced this years ago and suffered in silence," she said, "and I think it's important that we show solidarity with them and make sure that changes happen so that never repeats itself."
Moran said she appreciated the company's stance on the walkout, noting that managers on her team moved meetings so people could participate.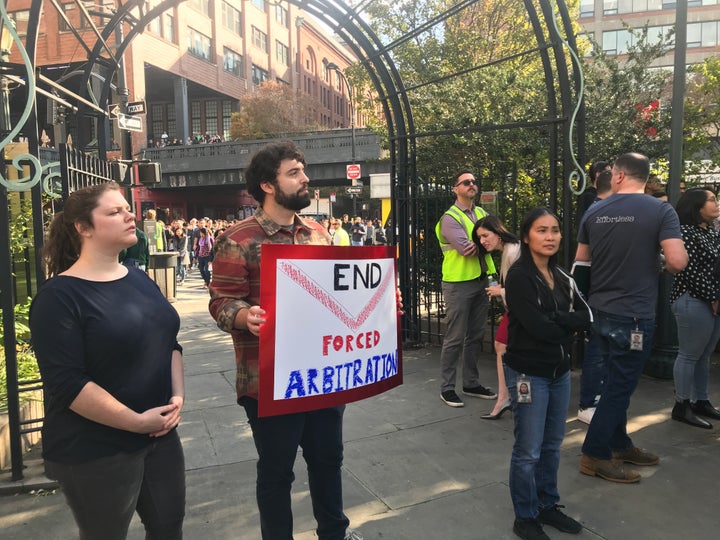 Sam Messing, a 31-year-old who works in research at the company, was hopeful the walkout could spur real change ― especially regarding an end to forced arbitration.
"I think one of the ways we can be better and more transparent is to end forced arbitration in employment contracts ― at the very least, for cases of sexual harassment and sexual misconduct," he said. "It would enable more transparency and make it easier for people to understand how Google handles claims."
A female contractor for Google, who wished to remain anonymous out of concern for retaliation, said she's concerned that contractors have even less pull at the company and are frequently "overlooked."
"I just want to make sure that our voices are heard and that we're accurately represented, because we make up a huge part of the company," she said of contractors.
She said she left a job where she had been harassed and was dismayed to find Google suffers from the same problems. "I came [to Google], and I was like, 'Oh, there's so many guardrails. There's such a company culture that's so welcoming and inclusive,'" she said.
"And then to see that not only that happened but that so much money was used to cover it up ― I felt shameful. I felt like this company that I really love working for was doing something really terrible, and I think the right thing to do was to stand up and say something."
"I think there's definitely going to be change," she predicted, striking a more optimistic tone. "Not only at Google, but a lot of tech companies are going to see this and see how many women are ready to stand up and say, 'This is not OK.'"
Related
Popular in the Community