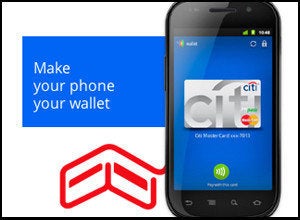 Google Wallet will launch this summer, in partnership with Citibank, Mastercard, Sprint, First Data and a slew of stores. The Wallet, an app for smartphones, will use Near Field Communication (NFC) technology so that users can pay just by waving their phones over a terminal when they pay. At the same time, Google will continue rolling out Google Offers, which offers users a way to find and use coupons.
At the press conference, Google announced that 2011 and beyond would be the age of "MoLo" -- mobile and local.
"Because Google Wallet is a mobile app, it will do more than a regular wallet ever could. You'll be able to store your credit cards, offers, loyalty cards and gift cards, but without the bulk," Google wrote on its blog. "When you tap to pay, your phone will also automatically redeem offers and earn loyalty points for you. Someday, even things like boarding passes, tickets, ID and keys could be stored in Google Wallet."
In the beginning, Google Wallet will be compatible with the Nexus S 4G on Sprint, though the company plans to expand to more phones in the future.
With the Google Wallet app, a user would tap the phone on the reader, which then sends payments and with some merchants, add offers and collect loyalty information.
Google also explained that the app will be protected with "multiple levels of security," including the phone lock, a required Google PIN, and encrypted credit card information.
Merchants such as Macy's, Subway, and Walgreens are on board to be Google "SingleTap" merchants, meaning that users can pay with just Google Wallet and a tap, as well as earn loyalty rewards and redeem electronic coupons. Other merchants that are Paypass enabled, like CVS and Jack in the Box, will accept payments from the app as well. Google Offers will work with Google Wallet, so that users can save offers to the wallet.
"At first, Google Wallet will support both Citi MasterCard and a Google Prepaid Card, which you'll be able to fund with almost any payment card. From the outset, you'll be able to tap your phone to pay wherever MasterCard PayPass is accepted," the blog wrote.
Google hopes that more cards--including boarding passes, concert tickets and even driver's licenses--will also one day be able to join the Google Wallet.
"Eventually everything can go in the Google Wallet," Google said at the press conference.

Related
Popular in the Community