Site speed is an important consideration in a website's page ranking on Google. Earlier this week, SEO professional and web strategist Matt Storms revealed on Google+ that Google's Webmaster Tools now provides the ability to test website speed.
Since website load speed is an important factor in the ranking algorithm, this news comes as a boon to SEO professionals and webmasters. While it's long been easy to test website load speed, getting data directly from Google itself provides an extra element of legitimacy. Here's how it works:

When you access Google Webmaster Tools and click on the "Crawl" menu to expand it, you're presented with the option to "Fetch as Google."

After selecting whether you want GoogleBot to download the page via the web or a mobile platform, clicking "Fetch" sends GoogleBot to the page entered. This is especially useful when comparing web and mobile site speed, as businesses should have a version of their site optimized for each. Within seconds (or milliseconds, if the site is speed optimized), the Fetch Status will be updated as shown below.

If an invalid URL was entered, the Fetch Status will populate as "Not Found." If GoogleBot successfully downloads the page, the Fetch Status will show "Success." If the URL field is left blank, GoogleBot will fetch the homepage and, once the page is fetched, presents the option to submit the URL to index. Clicking "Success" here navigates to the page where you can view the download time.
GoogleBot Page Download Time
The "Fetch as Google" page shows a variety of metadata, with download time listed in milliseconds (ms). A generally acceptable page download time is under three seconds (3000ms). Independent studies have shown that anything above that can cause problems. Other studies indicate anything above half a second (500ms) impacts vital business metrics, such as site conversion rates and click-through rates. Regardless of which datasets you consider, site speed matters from both a customer-service and SEO perspective.
However, both half- and three-second rules only apply to end-users. GoogleBot is not an end user, and this data is not necessarily representative of your site's end-user experience -- it's only a test. Even so, that test is displaying one more piece of valuable data provided by Google's Webmaster Tools. So, what exactly is site speed, and how do you improve it?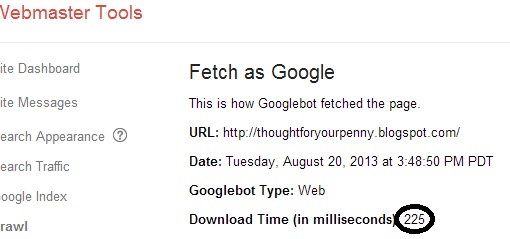 Site speed is the time it takes for your page to load. A website's ability to efficiently provide web content is indicative of that site's quality, because faster load times result in a better user experience. Citing "faster sites create happy users" in 2010, Google began utilizing site speed in its search ranking algorithms.

Google later shut down the "Site performance" feature of Labs, redirecting to Google Analytics and Google Developers sites for site speed information and fixes. "Fetch as Google" can be used to estimate a website's average load time to help determine if additional steps are necessary to improve load times.



How to Improve Site Speed
Site speed can be improved in a variety of ways. Optimizing a website's content and format for the target audience is essential. The more information there is to load on a page, the slower it will load.
Image Optimization: Images take a long time to load, so optimizing them for speed can make a noticeable difference. Remember to create an image that is the size you want, instead of forcing your site to scale it for you. For example, a true 650x300 image will display faster than a 1400x800 image that is uploaded to the site and scaled down to 650x300 on the server. This is because the full 1400x800 must be downloaded by the user prior to converting it to the displayed size. Always aim for the smallest possible file size without compromising on quality.
Code Optimization: Web development is a stylistic choice -- the same website can be created with two entirely different sets of code. Clean and minimalist coding improves site speed. The more tools you add to your site's layout, the more bloated the coding becomes. Maintaining an optimal balance between usability and speed is essential for customer retention.
CSS Optimization: CSS (cascading style sheets) groups together similar elements to significantly streamline HTML. Using CSS is fantastic, but it should only be used site-wide as opposed to on each individual page. Using CSS -- and using it correctly -- is essential for improving site speed.
Server Optimization: CDN hosting is known to vastly improve speed, as is Windows VPS hosting. The right host can make a world of difference in site loading speed.
Though website speed has long been known to be a factor in search engine ranking algorithms, conventional wisdom among the online marketing community says that it's playing more of a role now than ever. Does this addition to Google Webmaster Tools' lineup of tools signal a continuation of Google's stated desire to become more transparent? I think so, though I find it ironic that Google has made no announcement of this change. Perhaps their desire for transparency hasn't reached their PR department yet.
Popular in the Community