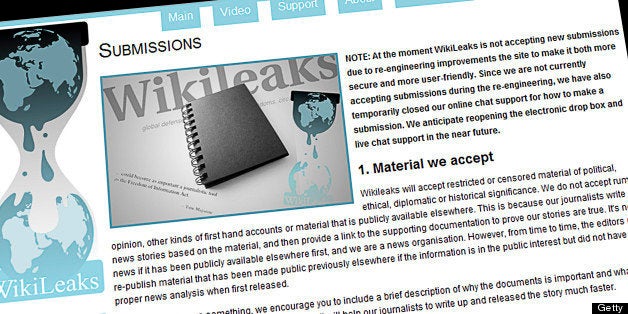 The extent of the U.S. government's probe into Wikileaks may have become just a little clearer on Friday, when a pair of former Wikileaks volunteers revealed prosecutors' successful attempts to subpoena their Gmail account information.
The files state that Google was ordered to hand over "records and other information" from McCarthy's Gmail account, going back as far as November of 2009. The documents also ask Google to provide similar data from Snorrason's account, such as "preserved copies of emails … draft emails, deleted emails, emails" and "the source and destination addresses associated with each email, the date and time at which each email was sent and the size and length of each email."
Google recently contacted both men to notify them of the company's compliance with the government's requests.
I assume it's because I had a conversation or a few with a white-haired [A]ustralian guy, but there's nothing in the documents to confirm this. Let's reiterate this, because that's the point I find the most remarkable in all of this: Because I talked to Julian Assange, all information held by Google relating to my [Google] user account ... can be handed over to U.S. prosecutors.
The pair also posted on McCarthy's website a similarly worded joint statement, writing that they believe the orders "were almost certainly related to the Grand Jury investigation of the unauthorized public disclosure of information showing considerable misconduct, including a number of probable cases of war crimes, by U.S. military forces in Iraq and Afghanistan."
A spokesperson for Google told The Huffington Post in an email that "we don't comment on individual cases, but you can find general information about our practices around government requests for user data on our Transparent [sic] Report FAQ."
A Google spokesperson told The Nation that, generally speaking, "for [Google] to comply, the request must be made in writing, signed by an authorized official of the requesting agency and issued under an appropriate law."
Popular in the Community