The name Google has been synonymous with search since the early 2000s, when the company distanced itself from Microsoft and Yahoo! and became the dominant leader in the industry. The news that the company's founders announced recently -- changing the parent company name from Google to Alphabet -- is being dubbed a "a holding company reorganization" which will result in Alphabet owning all of the capital stock of Google.
Under the disclosed terms, the newly formed Alphabet will own Google's various businesses (search, ads, maps, apps, YouTube and Android) as well as other subsidiaries) With this reorganization, Google is trying to cast a wide net and is distancing itself from the fact that it is the world's leader in search.
Peter Thiel praises Google for achieving monopoly power but constantly distancing itself from admitting that fact (for obvious reasons). In industries where there are numerous players vying for the top spot (airline industry, CPG), each firm must compete fiercely and sacrifice its profits. On the other hand, a monopoly owns its market, so it can set its own prices.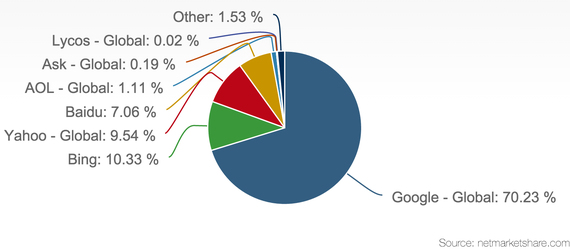 Google's primary business is still search, and it remains an unrivaled monopoly in that industry. Since it has no competition, it produces at the quantity and price that maximizes its profits. As of June 2015, Google owns about 70 percent of the market -- its closest competitors, Bing and Yahoo!, have about 10 percent and 9 percent respectively. As the company is fighting antitrust cases around Europe, the last thing it needs is to be called a monopoly. In order to do so in an optimal way, it ought to broaden how it is perceived both by investors and consumers. After its consolidation as a holding company, Google (now Alphabet) looks like a small player in a competitive world.
With this latest restructuring, Google is formally framing itself as a multifaceted technology company. While it has done so for years in its communiqué, the notion is now being officially implemented. From outside, this idea is logical: Google has a diversified set of businesses, ranging from search to maps to even cars. However, this overlooks the fact that 91 percent of Google's revenue comes from search advertising; its other products generated a mere $1.84 billion in 2014 and its consumer products even less than that. When framed as a multifaceted technology company, Google is just a small player in a large industry and is thus able to escape all sorts of probes and unnecessary attention.
In effect, Google's name change to "Alphabet" is the next logical step from making its motto "Don't be evil." Both moves frame the companies in a way that distances it from its competitors and makes it seem harmless. Over the years, Google has shown time and time again that it is well-prepared for (read: actively inventing) the future. It continues to do so and is able to transcend the daily struggle for survival by utilizing its vast monopoly profits and changing people's perceptions about it from a search company to one that is centered around technology.
Today is a great day for Google -- and that will be the case for a very long time.
REAL LIFE. REAL NEWS. REAL VOICES.
Help us tell more of the stories that matter from voices that too often remain unheard.