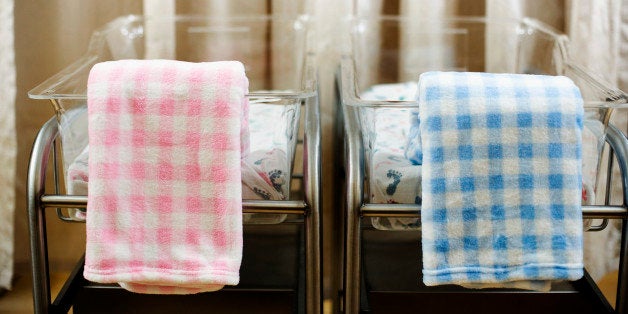 Gwyneth Paltrow's site has a baby blanket with an elephant stitched into it for $198.
I tell you that upfront because I happen to think spending $198 on a baby blanket is ridiculous, especially when it's made out of something that has to be delicately blotted and then gently hand washed. I don't know about you, but when my kid was a baby the last thing I had time for was blotting a green poo explosion out of a cashmere blankie at 3:00 a.m. after 10 consecutive nights of no sleep. As a matter of fact, if someone had given me one of those blankets for a gift at my baby shower I might've throat punched them.
But I guess people who are shopping on Gwyneth's site probably have people who do those sorts of things for them, so a cashmere baby blanket with a single stitched elephant probably seems super cute for wealthy baby bums called "Apple" and "Saint" and other names kids will hate when they're 14.
If you've never been to The Goop site, I demand that you stop what you're doing right now and head over so that you can finally cement into your brain how much your life definitely sucks. You'll probably want to hide in your dark closet after, cutting with a shard of your "What Happens Under the Mistletoe Stays Under the Mistletoe" wine glass and eating your stash of stale holiday Oreos while rocking back and forth to Adele. Even so, you should still experience the site because sometimes you have to sacrifice to understand how "the others" live.
I often wonder who actually orders from a site that sells things like a JET'AIME NECKLACE (in white or yellow gold!) for $695. Is Jay Z sneaking over there after Queen B has drifted off to sleep, putting in his order for four ounces of Venus Amber Body Oil for $60 (sorry Jay, it's sold out), or is it just fans living beyond their means for a chance to brag that they are wearing a $295 corset unitard recommended by Gwyneth herself, who probably dons it after her vaginal steaming. (I'm just guessing about that, but it seems rational. I mean, what else would you wear after giving your vag a facial?) Or, maybe it's just people who want to consciously uncouple in a stylish $2,495 cape coat?
The 2015 Annual Goop Gift Guide lists 51 items. And, 18 of those items -- averaging around $200 -- are sold out. Sorry, you missed your chance for a 0.25QT MINI ROUND COCOTTE for $80 and a $440 toiletry case and a $418 robe. You also missed out on ballet slipper house shoes for $135 and a camouflage duffle bag for $225 and a short and sweater set for $995. Sorry.
However, that $198 cashmere elephant baby blanket is still available, but I'd hurry if I were you before the Goopettes swoop in and you miss your chance to blot puked up baby peas and sweet potatoes off of a cashmere elephant in the middle of the night.
(PS? Can someone please explain to me what color "Vapour" is?)